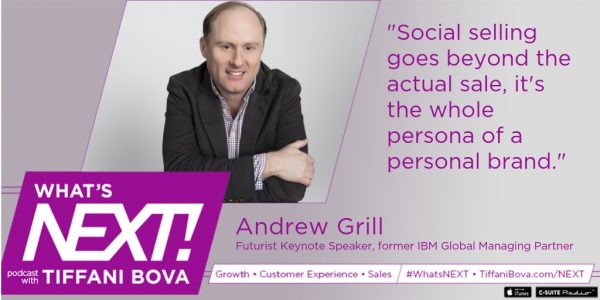 Andrew appeared on the What's Next! with Tiffani Bova Podcast and spoke about how thought leadership can cause disruption.
Listen to this on iTunes or listen here
Whats Next! podcast - When Thought Leadership Causes Disruption with Andrew Grill
We covered a lot of ground in this episode, including social selling, personal brand (inside large and small companies), digital eminence and the future of work. If you're interested in any of these topics then it's worth investing 30 minutes to listen.
THIS EPISODE IS PERFECT FOR… believers of Andrew's motto: "if you want to get digital, you have to be digital".
TODAY'S MAIN MESSAGE…
Andrew and I live in the thought leadership space and share similar viewpoints on innovation and disruption. We both believe that the nature of work is changing, especially as technology continues to lead our lives and as Millennials begin to speak their voices in the professional world.
WHEN YOU WORK FOR A COMPANY AND YOU WANT TO GROW YOUR DIGITAL FOOTPRINT…
Never forget that your employer doesn't own you. No matter what, we're all building our personal brands. Of course, it's helpful to be attached to a brand that already has a following, but you're still growing your own brand while you're renting your time to that employer.
LET YOUR DIGITAL SELF FLOURISH…
Sharing your life online and being a consumer/seller in the gig economy is not going anywhere. When you (and businesses ) begin to see this, you can shape your digital self around this changing workforce.
Andrew believes that when you allow your digital persona to morph between private, public, and inside the organization, there will be broken rules but more human interaction.
Are you ready for this kind of disruption?
Running time: 29:30
Subscribe on iTunes