This piece was originally posted on the Raconteur Business of Marketing Hub where I write a column.
I often hear people say: "Our CEO is our company's best brand advocate." But in my experience, that's rarely the case.
CEOs are often asked to give comments in the media or trade press. But, their 'thought leadership' is most frequently written by someone in their PR team.
Beyond the CEO, in every large organisation there are hundreds who could confidently write on a given topic and contribute their thinking to the debate, if they were only given the chance.
I'm talking about the employees that know everything there is to know about your product and solution range. The people that know your sector inside out and drive businesses to consider and purchase from your organisation.
These are your real advocates. And they drive demand for B2B brands throughout the marketing funnel.
While only 3 per cent of employees share company-related content, they are responsible for driving a 30 per cent increase in that content's total likes, shares and comments.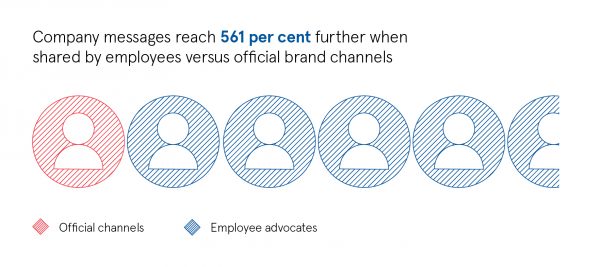 Source »
At the same time, the latest research from Edelman and LinkedIn shows that these interactions help drive real business results.
They found that 37 per cent of decision-makers and 41 per cent of C-suite executives have invited an organisation to submit a proposal because of a piece of thought leadership, where they previously would not have considered the firm.
The benefits of greater employee advocacy are clear, but they are reserved for those who take a strategic approach. So, in this post I'll outline how to find and nurture these talented individuals within your organisation.
The pushback I often hear on giving the broader organisation a voice when it comes to marketing material or thought leadership is that "they're not an executive" or "they don't know enough about our business". But, this often masks the potential here.
Less senior staff often have more time to write about your organisation in their own words, rather than having it written for them. Plus, they may have points of view that are more closely aligned with the experiences of your end users, enabling them to provide authentic viewpoints.
The challenge many companies struggle with is working out how best to find these hidden brand advocates and give them a voice.
Spotting thought leadership potential
It might surprise you to find that you have these great writers and unintentional brand advocates already at work inside your organisation.
Microsoft's chief storyteller, Steve Clayton, is a great example of the potential here. He's a former Microsoft sales engineer whose personal blog caught the attention of Frank Shaw, Microsoft's head of PR. As a result, Shaw offered Clayton the chance to move to Microsoft HQ as a full-time blogger, writing about anything he finds interesting.
Like Steve, these "hidden" advocates can be used to literally transform your business. And to find your most vocal brand advocates, the best place to start is social media.
As an example, try doing a "bio search" using a social media tool to surface everyone who puts the name of your company in the bio section of their Twitter page. For someone to publicly identify with your organisation on their social profile telegraphs to the world that they are proud to work there and are therefore more likely to want to become a brand advocate.
Once you've scanned for these potential advocates, have a look at their posts. Do they always talk about personal topics, or is there a mix of personal and business? Are they already referencing the company and your press releases and announcements? If so, you have the makings of a brand advocate.
Employees who are already publishing their own personal blogs or speaking at industry events are even better. These advocates require little training, as they already exhibit the necessary behaviours to become thought leaders.
Be strategic about your brand advocacy
Before you start a brand advocacy programme, you need to have a few processes and tools in place to ensure you're protecting the company and measuring the programme's impact.
The first thing you'll need is a policy on social media use. You'll be asking your employees to represent you on social media untethered from the PR team, so you need to let them know the rules of the road.
IBM developed its social media policy by crowdsourcing from within its 400,000 employees. The policy has only been changed twice since it was introduced in 2005. It includes 12 clear guidelines, such as "Don't cite or reference clients, partners or suppliers on business-related matters without their approval", "Try to add value" and "Provide worthwhile information and perspectives".
Establishing editorial and messaging guidelines will then ensure your contributors can all deliver a consistent message that is in line with your brand.
You'll also need the tools to measure the impact of your advocacy programme. Once you have identified your potential thought leaders, spend a few weeks analysing their content. What do they write about? How it is received by their readers? What sort of engagement is there with their content?
Tools such as Brandwatch or Sprout Social can be used to review the activity of your own people on social media, not just customers or competitors.
How to nurture your employee advocates
Once you have the ability to measure in place, it is time to approach these new content producers to see if they would like to formalise their brand advocacy role.
In many cases, those you approach will be very flattered to be considered for such a role. They may be writing already because they enjoy it, and the references they have made to the company may reflect the pride they feel for working for you.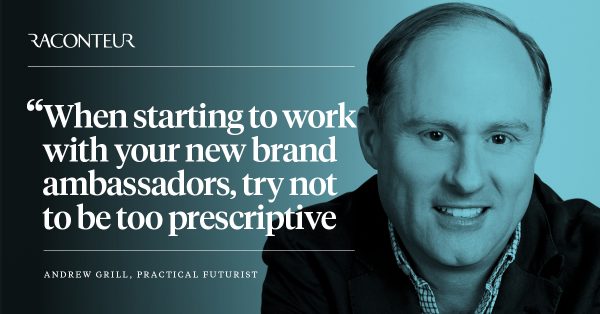 Allow them the freedom to keep writing as they have. But, give them access to content and information that they may not have had before. Including them in press and analyst briefings and asking them to honour embargos is a very practical way to inject these contributors into your existing processes.
Start with just a handful – say, five or ten people – so you can fine-tune your brand advocacy programme and see how your new ambassadors take to the new role before launching it more widely.
To make the most of this sort of employee relationship, consider putting some paid social media behind what your new brand advocates are now writing to give them a boost. This will help ensure your advocates' content is seen and have positive benefits on their involvement in the programme.
You should also provide them with trackable short links, so that when people click on stories your thought leaders have authored you will have access to the analytics to know how the content is performing.
Why employee advocates are the future
In this incredibly noisy world it is becoming harder for traditional marketing and PR tactics to cut through and reach their intended audiences. But content produced by employees is starting to resonate, as LinkedIn's study shows.
Influencer marketing in the B2B space has not yet gone the way of consumer influencers. But, as B2B influencers become minor celebrities they will start to demand large fees in exchange for their reach. Fortunately, utilising the in-house advocates already on your payroll will help to reduce your reliance on external influencers.
Brand advocacy also helps create more engaged employees, which will in turn power your business. Gallup's data shows that companies with engaged employees outperform those without by 202 per cent.
In 2018, it's the companies that harness their internal advocates in a structured way that will be best placed to cut through the noise on all channels and achieve their growth targets. High growth firms are twice as likely to have a formal employee advocacy programme.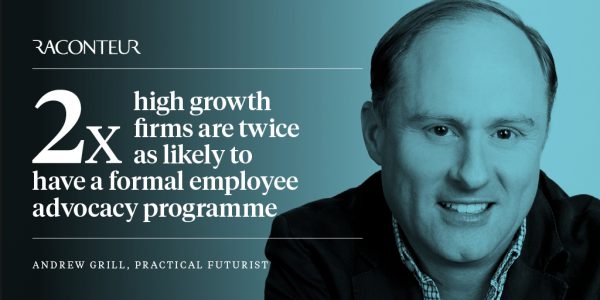 For these reasons and more, authentic and engaged employees will make a welcome extension to any marketing or PR team that is hungry for innovative ways to get their message heard.
So, what is your plan to find and engage the hidden content creators within your organisation?
Key takeaways
It pays to support your organisation's 'hidden' content creators. Company messages reach 561 per cent further when shared by employees versus official brand channels.
Don't be too prescriptive with potential brand advocates. Let them write about what they're passionate about so they can provide your audience with authentic viewpoints.
Do create a framework for success. Social media, editorial and messaging guidelines will ensure contributors deliver consistent messages that are in line with your brand.