S2 Episode 2: The Future of Podcasting with Minter Dial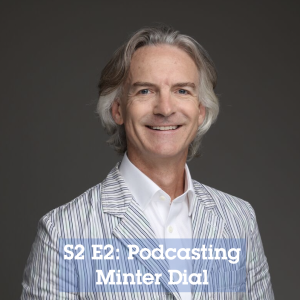 With Podcasting now becoming mainstream, what is the future of this medium? To answer this question I spoke with one of the original B2B podcasters, Minter Dial who has produced a weekly show since 2010 with over 350 episodes to date.
I first met Minter in 2012 and have been a guest on his show twice before.
Minter first appeared on Series 1, episode 2 of the podcast to speak about Ethics and AI, so we were delighted to have him back as a veteran Podcaster to provide some excellent insights into how he got into podcasting, and why you should (or should not) start one and podcasts he listens to.
We covered a number of topics, including:
What got you into podcasting?
Has Podcasting replaced Blogging?
Don't launch a podcast without a purpose
Think about why you're doing a podcast
Will Podcasters become the new influencers?
What can brands be doing with Podcasts?
How do you produce a weekly show?
Do you have a favourite guest?
How do you find great guests?
What should Podcasters avoid?
What was the last Podcast you listened to?
Making sense with Sam Harris Podcast
What is the intellectual dark web
How do you discover new podcasts?
What 3 things should companies consider when starting to Podcast?
Internal Podcasts for internal comms
Why keep your Podcast internal?
Who should I interview next and why?
Three things for next week
1. Get the right equipment
2. Levelator audio software
3. Listen to other podcasts
Podcasts mentioned in this episode
13 minutes to the moon
More about Minter
Twitter: @mdial
Blog: minterdial.com
Podcast: minterdial.com/podcast
FutureProof book
HeartificalEmpathy book
The Last Ring Home book
Minter's Favourite Guests
Dr Jack Kreindler
The Sleep Doctor – Mark Rosekind
Minter's recommendations
The Daily Podcast
Making sense with Sam Harris Podcast
Overcast Podcast platform
Your Host: Actionable Futurist™ Keynote Speaker Andrew Grill
For more on Andrew Grill – what he speaks about and replays of recent talks, please visit futurist.london or follow @andrewgrill