If you've been following what has been happening in Australia lately with Facebook and Google, you might think that this is something that has just happened recently. This has been brewing for a while and points to much more than a fight between a determined Government and Big Tech.
While many have looked at the different approaches from Google and Facebook when it comes to them defending big Government moves to reign in their power, I want to look a bit further ahead and highlight what this might mean for other companies and regulators generally.
To provide a quick summary, The Australian parliament is poised to pass a landmark media law that would make Google and Facebook to pay news publishers for displaying their content.
The legislation, which will be debated shortly, is designed to support Australian public interest journalism and is backed by all the nation's media companies, big and small.
An editorial in today's Financial Review argues that "Australia's Big Tech fight does not provide a model and that a Global approach is needed to ensure digital giants do not distort competition.
The Washington Post also reports that "Facebook shut down news sharing in Australia, and Google threatened to pull out of the country altogether over a new media law. But that's not stopping regulators in other countries from preparing similar regulations."
Looking beyond the current dispute, we need to go back to 2017 when the Australian Government launched a "Consumer Data Right". You can read more about this here.
The CDR will give consumers greater access to and control over their data. It will improve consumers' ability to compare and switch between products and services and will encourage competition between service providers, leading not only to better prices for customers but also more innovative products and services. It is a derivative of the Payment Service Directive (or PSD2) in Europe, also known more broadly as "Open Banking".
The CDR also spawned a very detailed report – The Digital Platforms Report in July 2019 that was a public inquiry into the impact of digital platforms on competition in media and advertising services markets, particularly in relation to the supply of news and journalistic content.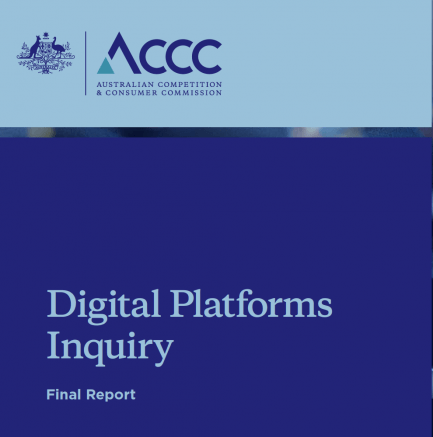 I read the entire 623-page report, and it goes into incredible detail around the considerable market power both Google and Facebook have. They even did a deep dive into each site's sign-up process and highlighted how little (read zero) influence consumers have when negotiating with these tech giants. They went step-by-step through setting up a new account and explained how there is a very one-sided negotiation when you click the "accept terms" button.
The reactions from Facebook and Google in Australia in this latest dispute could not be more different. In Google's case, they threatened to pull their search services out of Australia before agreeing to local and, in the case of New Corporation, global deals to pay news organisations for the content they serve onto their search pages.
In Facebook's case, overnight, they pulled all news content from their Australian site, even (inadvertently) disabling access to public health and public safety information.
The actions of the Australian Government and the responses from Facebook and Google are essential because the EU and other Governments are also considering similar legislation. If I were working in corporate strategy for any Tech Giant, I'd be formulating a range of plans for the next 2-5 years and assuming that we will get heavily regulated.
This piece focuses not on the tensions between Governments and Big Tech; it is about how companies of any size need to understand that self-regulation or augmented regulation may be the path forward.
In the case of the Australian Government's introduction of the Consumer Data Right in 2017 and the EU's Payment Service Directive as far back as 2009, it points to the fact that Governments are being smart in looking at how regulation must change as the landscape changes, in this case, linked to new technologies and consumer behaviour.
In most of my talks with large corporates, I have the opportunity to talk about the need to get regulators onside. Hence, they understand what you are trying to achieve instead of regulating you out of existence. The larger the company (as Microsoft saw in the late 90s), the more likely you will be regulated. What smaller companies and whole industries can do is get the regulators onside early.
I encourage my audiences to "think like a regulator", so they might understand how to engage with entities set up to stop things from happening.
Had the UK and EU banking industries been more open to the idea of sharing data, then the PSD2/ Open Banking regulations would have been developed by the industry for the industry instead of been mandated.
When I was at IBM, I had the chance to speak to senior people from two large banks and asked them if they would have provided for open banking if they hadn't been forced to. Their answer was of course, no.
In 2018 I had the privilege of presenting to a group of regulators from the Welsh Government at an internal TEDx talk.
In this talk, I flipped my advice. I encouraged the regulators to "think like a disruptor" to develop more of a broth mindset and understand how some tech companies might benefit from working in a partnership.
With new technologies such as blockchain and cryptocurrencies such as Bitcoin, there is an obvious need for regulators to understand this new technology and work in partnership with the industry to help benefit consumers.
In the UK, Financial Conduct Authority (FCA) has been very forward-thinking in providing a "sandbox" for companies to experiment with open data – allowing services that have no way of being regulated at the moment.
So what can you do? As a small high-tech company, engaging with a regulator might seem daunting. Your industry association might help to provide a voice that can help navigate this new world.
Why not offer to train your industry organisations or the regulators themselves using your smart people to ensure they are across the latest thinking and platforms.
What are you doing to ensure you either "think like a regulator" or "think like a disruptor"?