When:
21 June 2012 @ 10:00 – 11:00
Europe/London Timezone
2012-06-21T10:00:00+01:00
2012-06-21T11:00:00+01:00
Where:
Stanford University
Li Ka Shing Building
Stanford University, 291 Campus Drive, Palo Alto, CA 94305
USA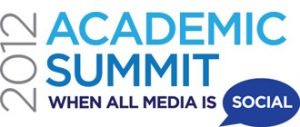 Stanford University, California Edelman Academic Summit – Influence panel
I was extremely honoured to be asked by the folks at Edelman to attend this year's Academic Summit at Stanford University.
I was joined by Brian Solis, Jonny Bentwood and Michael Brito
The topic was "The New Influential: Tracking and Measuring Online Influence"
The Summit convened leaders from public relations, journalism, business and marketing in Palo Alto June 20-22, 2012 to learn from executives and thought leaders about topics related to the theme "When All Media Is Social: Navigating the Future of Communications."
Participants learned how to utilize social media to improve academics and foster innovation.
Kred was the only social media influence measure participating at the conference, and I was honoured to have the opportunity to demonstrate the power of influence measurement to leaders in academia.