When:
28 September 2017 @ 09:35 – 10:15
Europe/London Timezone
2017-09-28T09:35:00+01:00
2017-09-28T10:15:00+01:00
Where:
Congress Centre
28 Great Russell St
Fitzrovia, London WC1B
UK

Andrew provided the opening keynote at the PM Forum conference on 28th September.
If asked when they envisage disruptive change will take place in professional services, people tend to believe it is always at least five to ten years into the future. Some think the future is two to five years away. But the future is already here and we are living in it.
In late August, the Financial Times screamed on their front page that the world's largest advertising group, WPP had reported their sales were down "as digital disruption gathers pace", with Sir Martin Sorrell warning of "fundamental change".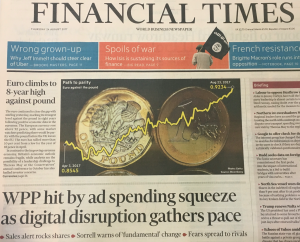 So how can we respond? How as marketers can we keep ahead of the wave of new digital services? How can we ensure we have the right teams, with the right skills mix of traditional and digital thinking in our firms?
What is the disruptive effect of these new digital marketing techniques on our existing methods and how can we adapt?
With the rise of social media and online "influencers", Marketers have a new marketing canvas, that of the employee advocate. How can this be used beyond simply "please retweet this" and create authentic brand ambassadors for your firm with a "brand not bodies" mind-set?
In the age of digital, now more than ever we need diversity in our boardrooms and our workplaces, and we need real diversity of thought, to ensure we embrace the ideas from those going digital as well as those born digital.
The rise of the "gig economy" will also impact professional services firms as the nature and the place of work is set to be disrupted as well.
There is much to think about, so our opening keynote at the conference is Actionable Futurist, and long-time marketer Andrew Grill. He will provide delegates with an understanding of what is happening, and why as well as advice they can apply next week, not next year.
This is a keynote not to be missed.
View or download the slides Andrew presented below.
pm-forum-andrew-grill-print