When:
15 November 2013 @ 14:00 – 15:00
Europe/London Timezone
2013-11-15T14:00:00+00:00
2013-11-15T15:00:00+00:00
Where:
ExCeL Exhibition Centre
Royal Victoria Dock
Western Gateway, London E16 1AL
UK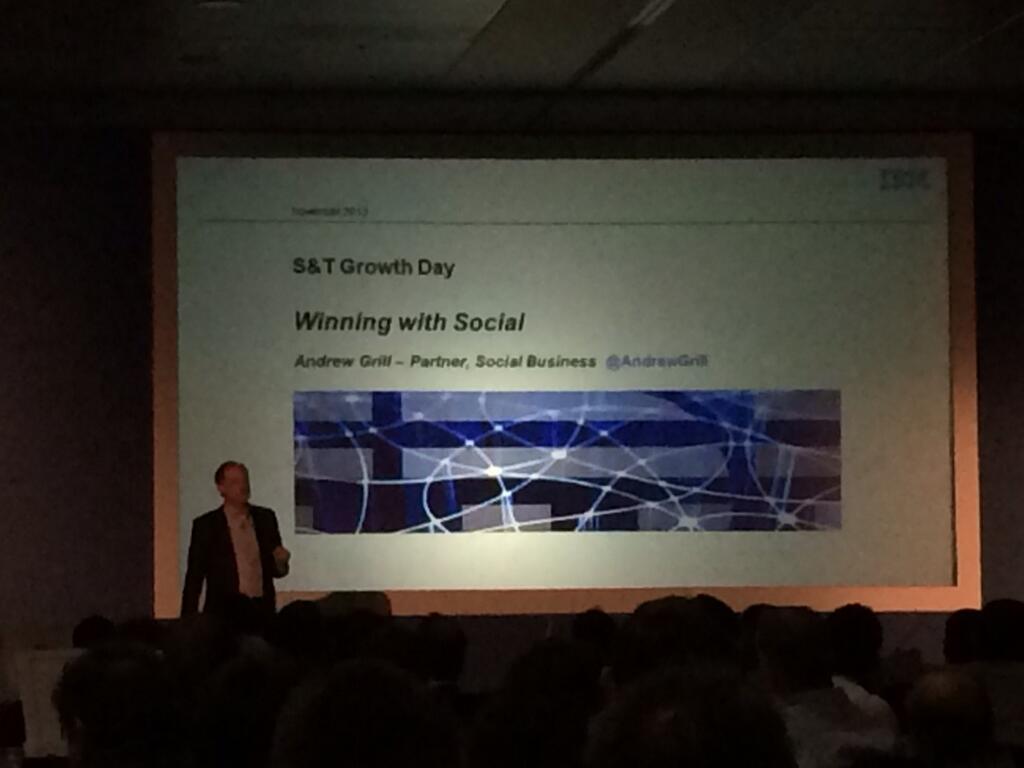 Andrew was the keynote speaker at an internal IBM workshop and presented on the topic "Winning with Social" to over 700 Strategy & Transformation Consultants.
The feedback from Andrew's talk can be seen below.
@AndrewGrill inspirational speech with @IBM today! Unbelievable how many technophobes you converted! Great day all round!

— Kane Sefton (@KaneSefton) November 15, 2013
@GabriellePirzad you need to be in the same room as @AndrewGrill at some stage. Real insights into social business uses in utilities.

— adam jones (@adamrjonesuk) November 15, 2013
Great presentation on #socialbusiness with @AndrewGrill – encouraged me to get tweeting again

— Sam Hills (@SamHills5) November 15, 2013
Great talk about 'Winning with Social' by @AndrewGrill

— Paul Parker (@PaulDParker) November 15, 2013
@AndrewGrill inspirational and challenging on the imperative to embrace social business

— Mike Tansey (@4MikeyT) November 15, 2013
@AndrewGrill Thanks for the great advice on building a strong social media presence at the S&T Growth day #IBM

— Richard Bolton (@ecculois) November 15, 2013
@AndrewGrill 10,000 followers! Great talk today-very inspiring #socialbusiness #ibm

— Alice Payne (@AlicePayne11) November 15, 2013
@AndrewGrill Inspirational speech at growth day today made me get on twitter for the 1st time with this 1st tweet, only way is up from here!

— Matt Pickersgill (@MJPickersgill) November 15, 2013
@AndrewGrill Thoroughly enjoyed your speech today at the growth day, inspired me to get digital. Thank you !

— Aiden Varga (@AidenVarga1) November 15, 2013
Listening to @AndrewGrill at an #ibm growth day. Interesting view on social media. Highlighting IBM can help change social attitudes!

— Robin Bradley (@quokkasskip) November 15, 2013
@AndrewGrill One of your new converts from the IBM Strategy and Transformation community, many thanks for your inspiration…at S&T day

— Jo Ashdown (@jocashdown) November 16, 2013
Andrew joined IBM from Kred where he was the CEO, and so he is uniquely positioned to provide a practitioner's view of how social business can be used effectively by IBM clients.
Andrew provided an overview of why he joined IBM, the opportunities for social, and tips for IBMers on how they can become more social.