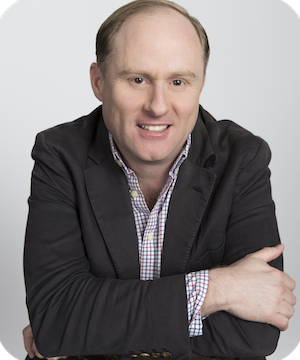 Download Headshot
Technical requirements
Andrew travels from London, UK
Lapel or headset wireless microphone
Small table for MacBook Pro on stage
MacBook Pro to be connected from the stage via HDMI/DI box – sound required
Andrew will use his own clicker
Soundcheck before event
Space for a small camera on a tripod at the rear of the venue
What do you get when you hire Andrew?
Andrew is an experienced speaker having spoken at over 500 events in 40 countries. He has an audience of his own and is happy to work with you to help you ensure your event is a success. This can include:
Pre-event video or Podcast appearance
Facilitated Workshop session following his keynote address
Promotion on social media to 18,000 LinkedIn followers and 17,600 Twitter followers
Interviewing one of your leaders on Andrew's Podcast series
Co-operation in pre-event PR and media interviews
Contributed articles for event blogs or brochures
Andrew is most commonly asked to keynote, but he is just as comfortable chairing panels or interviewing other speakers on stage while he is at the event.
Studio capabilities
Sony 4K XDCAM broadcast quality camera
ATEM Mini Pro switcher – stream @ 1080p/25
Green screen to display any corporate background
3-point professional lighting
Shure SM7B professional microphone
IFB concealed earphone