Andrew fully supports a hybrid delivery model, and all of his talks can be delivered via Zoom, Microsoft Teams, streaming video or virtually any webcast or collaboration platform from his HD studio in London, or in person.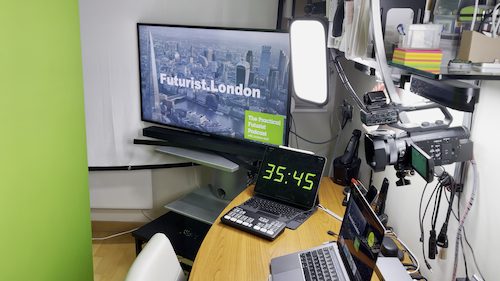 His speaking portfolio includes keynotes on digital disruption, the workplace of the future, emerging technologies such as blockchain and artificial intelligence, digital diversity, selling through the screen, creating a great digital first impression, and collaboration tips for distributed teams.
If you don't see a topic here that interests you, please get in touch and Andrew can perfectly tailor a talk or workshop to delight your audience.
Selling through the screen
With 90% of B2B selling now remote, how do we sell through the screen?
Andrew covers this topic with practical examples of how selling needs to go beyond simple LinkedIn connections, and instead provide real value including his 5 new rules for selling through the screen:
1. Eminence has real value
2. Your digital 1st impression is key
3. Influencers belong on your team
4. Native content beats paid advertising
5. Embrace your LinkedIn profile
This keynote looks at the acceleration of change and the fast adoption of digital by sales and marketing teams and how this trend will continue post-Covid. Andrew makes the case that you now need t consider your digital first impressions (for companies and individuals), leading with content, influencing rather than digital ads. The session contains plenty of practical tips on how to make it happen rapidly.
The internet of eveything
The Internet of Things remains one of the most promising technologies of the last 10 years. In this talk Andrew looks at how IoT can be used to drive business transformation across multiple industries. The talk covers
• 4 reasons why IoT in 2021 will accelerate a post-Covid recovery
• Being ready for IoT data
• Affecting business transformation with IoT
• How to best act upon IoT data
• How location + environmental context makes IoT data so valuable
• IoT predictions for 2025
• The rise of Open Data
He also looks at what's next for IoT and the internet of everything.
Digital disruption is happening now, but what does it mean for you and your business? This talk covers topics such as what is digital disruption, how can companies prepare for disruption, tips on how to have a discussion with your board about the issues, how innovation can drive digital transformation, how the network effect will drive innovation, and what can happen to your company if you become disrupted. As a leading keynote presenter on disruption, Andrew's talk can be adapted to suit different industries with practical and relevant examples and is his most requested keynote.
Blockchain's impact on advertisers
What is Blockchain's impact on advertisers? Can you drive fundamental improvements in financial transparency in the marketing supply chain, or is it just industry hype? This talk looks at what we actually mean by blockchain, and what is its particular relevance to the marketing and media industry. It also provides a view as to if blockchain help improve ad tech, protect personal privacy, and stop digital ad fraud while also attacking the duopoly of Google and Facebook. The talk also looks at how can you best prepare your organisation for new ways of doing business that could be unleashed if public blockchain technologies fulfill their early promise.
Workplace of the future / Talking about my generation
How can your employees adapt to changes in the nature of work? The nature of work is changing, driven by digital, social and mobile, so how can you and your employees adapt? How do the different generations get work done, what are the traits linked to each generation, and how can we embrace them as an employer? This talk examines how the workplace is changing and so are the tools available to enable a more collaborative and efficient environment. It also looks at the demands of new tribes of employees such as millennials and Gen Z, while providing advice for Gen X and Baby Boomers on how best motivate and manage them. As a keynote speaker on change, Andrew can help you navigate the new working world.
Building a digital-proof-business
How do you develop a digital-proof business? It's not all about technology, it also involves culture change and your own personal digital growth.
Digital transformation starts with your own personal understanding of the threats and opportunities digital brings. This talk will provide practical advice on how to stay ahead of digital disruption and "get digital".
Is your firm ready for the changes coming thanks to automation and AI? In this rapidly changing world, new technologies, especially artificial intelligence are having an impact on every industry. Are you ready for these changes, and what can you and your firm do to adapt? Other technologies such as blockchain are already impacting areas such as smart contracts, but what should you do to respond? Younger generations are entering the workplace with different expectations, and the industry is facing increasing demands from clients. To stay ahead, it is essential your firm is agile enough to understand, adapt and attract the people you need to meet these challenges successfully. This talk is ideal for executives, boards of directors as well as sales kick-offs or company annual retreats.