I just got my hands on the new Telegraph UK app and it's a nice piece of work by Tigerspike, who were also responsible for the Australian iPad app (shown below).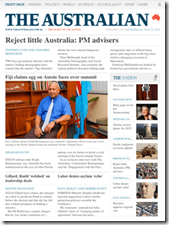 As regular readers would know, one of the primary reasons I invested in an iPad was to read newspapers.
I actually already read the Telegraph via the excellent PressReader application and get the full experience – ads, inserts etc all appear as in the printed version.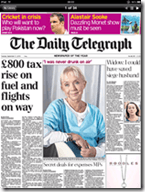 At the launch of the Australian iPad app there were a number of complaints around the high frequency of ads served to the device.
While I understand the need to advertise to offset the cost of newspaper production, the fact that both "mobile" apps are still operating on the "reach and frequency" model rather than that of relevance bears some discussion.
For some time now, I have been advocating the use of relevance for mobile advertising to ensure that only relevant advertising is delivered to such a personal device as a mobile or iPad.
The Telegraph app is great, except that every ten stories, I get a FULL PAGE ad – from launch sponsor Audi ( 3 different variants shown below). That's right – the stories are completely obscured until you dismiss the full screen ad.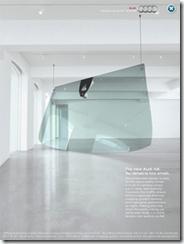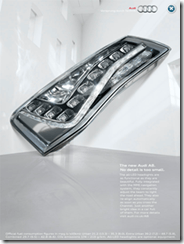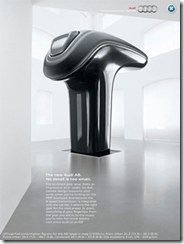 Here's the thing. I'm not in the market for a car right now. I would actually have had the opportunity to tell the iPad app this when I first installed it and it asked for my name, birth year and email address. If they had asked just a few more qualifying questions in the form of a quick check box, then perhaps I would have received a more relevant ad (or none at all if there is nothing relevant to show me).
In fact if I was in the market for a car, my Wife has already said she wants an Audi, so then the ads would still be a waste on me.
Just as ITV HD viewers found during the world cup, when you interrupt the main flow of information (in this case England scoring a goal) with an ad, viewers and readers get annoyed. I would rather pay for the PressReader app, get the full newspaper and be able to self-select which ads to read and navigate around rather than having the same irrelevant ad thrust upon me every 10 stories.
So my view is that the Telegraph iPad app is great (and you should go and grab it now) – the frequency of the ads is what is at issue here.
To those looking to ad-fund iPad or iPhone apps – just think for a moment – in mobile it is all about relevance not reach and frequency.