I read with interest the piece in the Telegraph by Katherine Rushton titled London 2012 Olympics: chaos for mobile phones and the comments underneath the piece from outraged Londoners.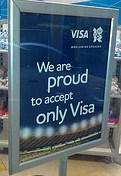 For those of us for which this is our first taste of an Olympics in our home town or country, some of the antics such as Visa's exclusive position as the only way to buy Olympic tickets and merchandise seem anti-competitive.
The Telegraph story talks about how the local organising committee (LOCOG) has struck a deal with BT and mobile operator O2 to be the exclusive provider of mobile services in the Olympic hospitality areas at the 2012 games.
Having been involved with the Sydney 2000 games while working for Telstra, I have seen first-hand how an Olympics machine works.
The Visa arrangement existed 11 years ago in Sydney, and you could only buy a ticket to the games with a Visa card.  Virtual Visa cards did not exist back then, and so I had to rely on a friend to buy the tickets with her Visa card and pay her back to secure my opening and closing ceremony tickets ($1,200 each back then).
Just as one mobile operator (in this case O2) seems to have an unfair advantage, in Sydney at the 2000 games, official provider Telstra was also in the box seat.
Telstra built their millennium network (archived website here) to carry all voice, data, TV signals from the games to the world.
They also installed a massive GSM network in the Olympic stadium and surrounds at the Homebush site.
Literally every light pole along Olympic Boulevard contained a GSM micro-cell to help with phone coverage and capacity around the site.
At the peak events such as the opening and closing ceremonies (both of which I attended), there were 110,000 spectators in the stadium.  Telstra's planning had to accommodate the fact that at any one time, half of these spectators would be making or receiving a call.
With the help of more microcells inside the stadium, as well as picocells in the stadium roof with directional antennas pointing to the seats below, it was estimated that the stadium GSM network alone was the same size as Adelaide's GSM network (a city of some 1M people at that stage).
Other networks (at the time Vodafone and Optus) were not afforded the same planning privileges, so had to serve their GSM customers using existing local cells.
In fact I had my parents call me several times during the opening ceremony on my (Telstra) mobile and there were absolutely no congestion of interference issues – and that was with just a 2G 900/1800 GSM network.
It is probably fair that if O2 has agreed to sponsor (ie fund) part of the games, then they should be able to place additional equipment in the hospitality areas.
To correct some of the comments on the Telegraph article, O2 are not jamming or blocking competitor signals, instead they will have the best and least congested signals around particular areas of the games.
In 2012, we should expect massive mobile internet traffic at the games sites (something we did not have to plan for in 2000 – GPRS was 2 years away) and this is likely to be the largest problem LOCOG faces.
At the 2012 London games many visitors will want to browse the Games mobile portals for information, tweet, as well as update their Facebook profiles and send pictures, all from their mobile.
What is amazing is that back in 2000 all we had to do was send voice and SMS traffic!
See my Sydney 2000 Olympic games photos on Flickr.