In 1995, Andrew Grill worked on an innovative satellite earth station developed by British Aerospace Australia for the Australian Army, while studying for a Master of Engineering Degree.
His involvement was profiled in the British Aerospace internal magazine.
Andrew was directly involved with the development and set-to-work of an engineering prototype, including months of intensive environmental testing at the Army's former proving ground at Monegeeta near Melbourne Airport and the delivery of the first two production units.
The Parakeet satellite system assemblage was designed to sit on the back of a standard Army Land Rover 6×6 Perentie (Land Rover 110) and is described in more detail below.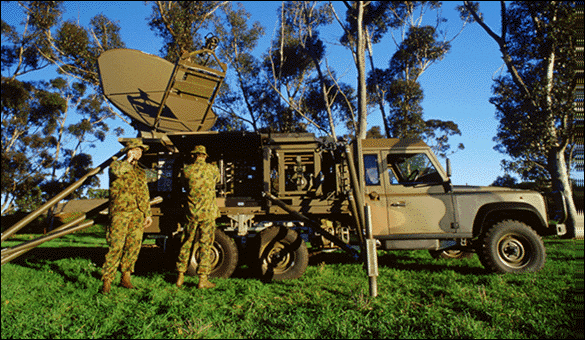 Parakeet Satellite Earth Station
The BAe Systems Parakeet 4.3 Project tactical satellite & trunk communications system is a revolutionary way for land forces to operate and share information. Parakeet supports the operations of remotely deployed units by providing a comprehensive, secure and highly mobile, tactical satellite & trunk communications infrastructure.
Parakeet 4.3 was developed by BAe SYSTEMS for the Australian Army and Royal Australian Air Force and can operate across vast distances with limited physical and human resources.
Parakeet Projects 4.1 and 4.2 were developed by AWA Defence Industries (AWADI).
Based on the Land Rover Defender, Parakeet is an extremely mobile, modern electronic office communications suite that offers a range of communications features including facsimile, telephone, data and messaging for the military subscriber.
The Parakeet system comprises seven key elements:
Satcom Terminal Assemblage.
Circuit Switch Assemblage.
Radio Relay Assemblage.
Communications Control Assemblage.
Combat Net Radio Interface.
Deployable Asynchronous Transfer Mode (ATM) Hub Assembly.
A series of stackable, modular communications Frames to support smaller subscriber sites
These are connected via radio bearers and a range of cable types including optical fibre, to form a communications node that can support a range of subscribers from 30 to over 300.
Parakeet successfully provided the communications infrastructure between the Australian mainland and East Timor and between deployed elements of the Australian Defence Force within East Timor during peacekeeping operations in 2000.
In 2002 a second-generation version of the Parakeet was completed. The second-generation STA provides the Australian Defence Force (ADF) with a substantial increase in data transmission capacity – up to eight times more. The ability to operate in the military X band and commercial C band frequencies was also added to improve flexibility to operate with other defence forces and international satellite systems.
Significant changes were also made to enhance the STA's capability to be deployed to areas of extreme temperature range and to incorporate an automatic satellite tracking capability.
Subsequently, post-deployable Cordless Access Telephone System utilizing DECT technology, the employment of Asynchronous Transfer Mode (ATM) switching hubs ruggedized for field deployments and improved bandwidth and optional C and X band transmission for the SATCOM Terminal Assemblage.
Andy Makin, C3I Domain Manager, BAe SYSTEMS Australia said "Experience gained through years of pioneering development on the PARAKEET STAs places BAe SYSTEMS in a unique position to market our systems as quality, low-risk contenders for several major opportunities in both the United States and the United Kingdom."
Key features:
Operates across vast distances with limited physical and human resources required.
Compatible across national and international communications standards.
Highly maintainable with full support infrastructure.
Easily operable in the field in all weather extremes.
Easily transportable by air, land, sea and rail.