Virtual Keynotes
Futurist Keynote Speaker
5 x TEDx Speaker
Senior Management Meetings
Large Conference Keynotes
Disruptive Thinking
Melbourne Australia
New York
Media Commentator
The Actionable Futurist, Andrew Grill is a former IBM Global Managing Partner and a popular and sought-after keynote speaker and trusted board-level technology advisor.
With a broad career spanning over 30 years in large corporates such as IBM, British Aerospace and Telstra, as well as 12 years running technology start-ups, Andrew is a highly experienced authority on a wide range of topics related to technology trends and the digital world.
Instead of painting a picture of the future in 10, 20 or even 50 years time, as The Actionable Futurist, Andrew delivers practical and actionable insights in every session.
A strong digital advocate and former Engineer, Andrew believes that "to get digital you need to be digital", and his engaging keynotes provide actionable insights on how to harness digital technologies to achieve corporate goals on a global and long-lasting scale.
Andrew has spoken in over 40 countries worldwide. Recent clients include senior executives from DHL, Nike, Nestle, Adobe, Worldpay, Barclays, Euler Hermes, Mars, Vodafone, Arriva, Johnson Matthey, Taylor Wessing, Bunzl, De Beers, Sanofi, NHS, Thomson Reuters, Royal London, ANZ, KPMG, Schroders, Mercer, British Airways, Finnair, UK Government, Westpac, Qantas, Aon, American Airlines, and Shell.
He also delivers workshops and provides strategic advice at the C-suite and Board levels.
A seasoned TEDx speaker, he has presented at 5 separate TEDx events.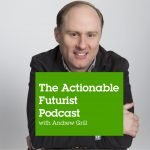 Andrew hosts The Actionable Futurist Podcast series available on all podcast platforms.
He also holds both Master of Engineering and Master of Business Administration degrees.
Andrew's first-hand experience of the digital world and the power of social media networks spans three decades and can be traced back to the early 1980's when he found himself online via bulletin board and email.
His passion and involvement in the digital world continued into later life, launching Australia's largest commercial property website, PropertyLook, and Australian location technology company Seeker Wireless to the world stage.
Prior to his role at IBM, he was head of international client strategy for Visible Technologies, owned by WPP.
Since 2000, Andrew has been providing advice, opinion and the latest thinking on all things digital and the impact on business and society on his blog. He also contributes to a wide range of media outlets including The Drum, Changeboard and ANZ BlueNotes along with numerous other online publications.
He has appeared several times on Sky News, Channel 4, UK TV, and has been published in the Financial Times, The Telegraph and the Guardian.
If you are an Event Organiser or Conference Producer, you may wish to download Andrew's headshot here.