An interesting thing is happening to bloggers that are becoming more popular – we are being asked if we would accept articles on our site in return for payment.
As someone who has been blogging since 1994 and is well known in the tech/social/mobile space, I'm getting nearly one of these every day – and I am not alone.
In the majority of cases, the pitch comes in via email, offering me a "carefully written post about my client" in return for payment – in effect cash for placement.
The inspiration for this post was a public facebook post from my friend and fellow blogger Mark Schaefer a few days ago.

There have been a number of comments on his post, with a range of views shared.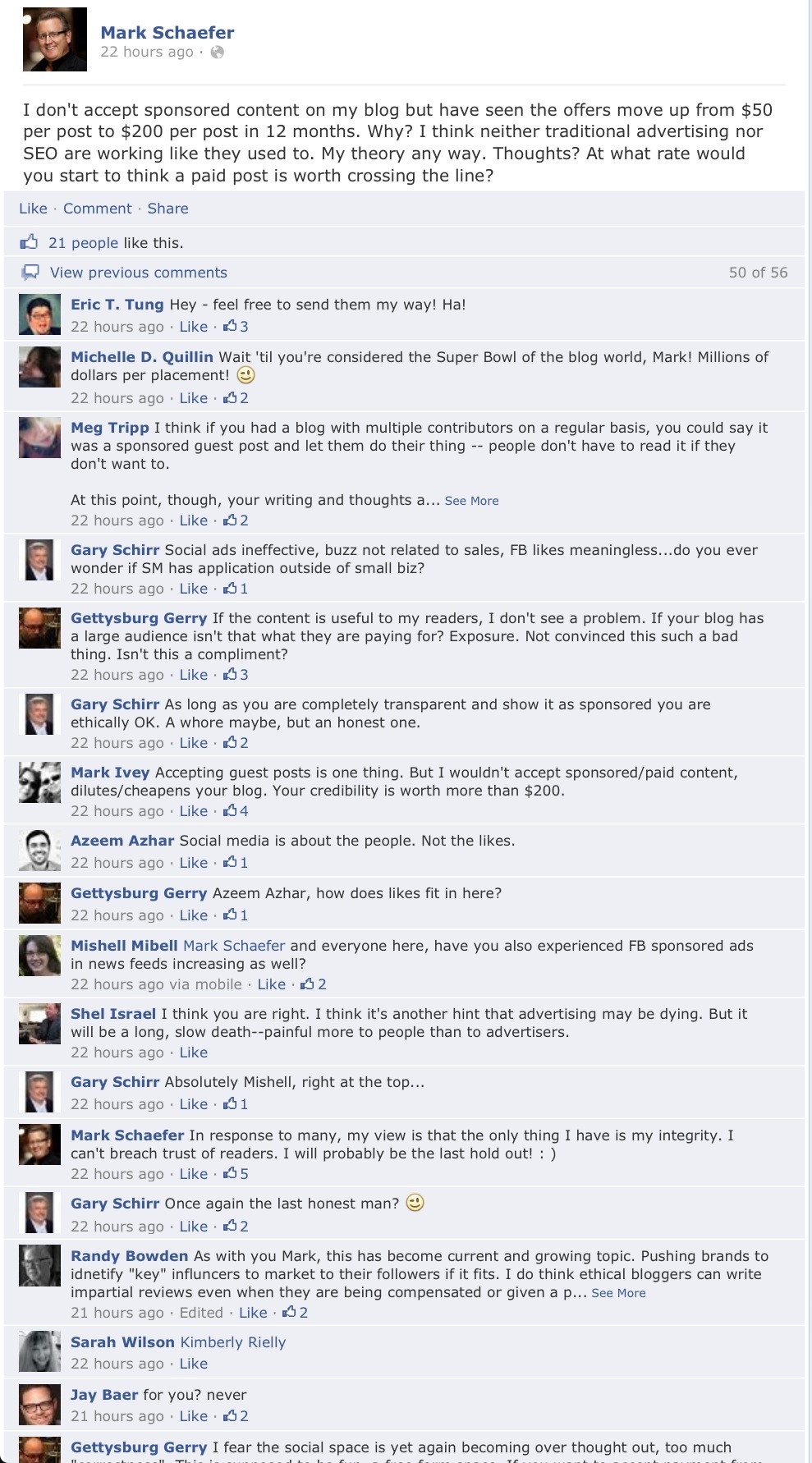 My view has been that once you accept payment for articles on a personal blog, then the blog itself is compromised, and in effect becomes an advertising medium.
The only ads I have on my blog are for services I actually use, and rely on – summarised below:
WebHostingBuzz, who provide the hosting for my blog at no charge – in effect sponsoring the blog. I am very grateful to WHB for the service they provide me and are happy to promote them as a reputable and reliable web hosting company.
Codeguard who also provide me with an excellent backup solution – read my review here.
VyprVPN who provide an awesome, fast and global VPN service – read my review here.
Clicky – who provide analytics for my site – grab a free account here.
Apart from this, all of the posts on my site are my own opinion, and I have not received any payment for any of the posts.
Companies that approach myself, Mark and others are offering between $100 and $500 for them to have one of their "carefully crafted posts" featured on their blog.
I feel this is wrong – however there is a real dilemma faced by a popular blogger. Blogging costs – both in cash terms of the hosting, domain names etc as well as the opportunity cost.
If I am sitting here writing for an hour or so about an issue, I could be doing paid work.
The real question, and something that Mark covered well in his book "Return on Influence" is how do we measure REAL influence – influence that has been earned and not bought.
From my experience as CEO of leading influencer platform Kred, from 2011 – 2013, I saw first hand how clients were grappling with three types of social media influencers:
Celebrity influencers – pay a celebrity enough and they will say that your product is great
"Pro" bloggers – those that have been blogging over a number of years as a hobby, and now are offered 4 and 5 figure sums on a monthly basis to write about companies and review their products
"normal" bloggers, those who have been blogging for a while and have resisted the attempts to "go Pro". In many cases, we already have a well paying "real job" so blogging is really a hobby.
In each of the types of bloggers listed above, brands must work out how they spend their influencer marketing budget.
If you splash out a truck load of cash on a well known and followed celebrity (some Celebrities have been receiving upwards of $15,000 per promotional tweet) then you are almost guaranteed that a large number of people will see your message.
Some might buy and try the product, but over time, I believe that consumers will make the connection that they're just being advertised to and the recommendation has nothing to do with what the Celebrity actually thinks of the product.
The grey area concerns those "Pro bloggers" who don't always disclose that they are being paid for the post, so the average consumer has no idea if they are authentically promoting a product, or are just acting like a Celebrity.
Who do you trust for a recommendation?
Many LondonCalling readers know that I no longer look at ads. I gather product recommendations from my social feeds.
If I know the person behind the tweet, then the recommendation is even more valuable.
Who would you rather take a recommendation from: someone who bought the product with their own money and loves it, or someone who was paid to recommend it?
As you can see, this becomes a very sticky area as consumers can never be sure of the financial considerations behind the blog post or tweet.
The companies that email me are simply trying to buy their way onto my channel. There is nothing wrong with this except if will affect my integrity and reader's view of me.
Many know that I had a run-in with UK 4G operator EE last year. You can read all about it, as well as what happened next – when I became an Advocate and received a free iPad.
The whole episode was a great case study, and I use this example when I talk to my clients about influencer marketing. My brand however is now at risk.
If I say that EE is wonderful, and never make mistakes (they do), then you will think I have been "bought" with an iPad, and your view of my advice will be tainted.
By not accepting paid blog posts, I am beholden to no-none, I can speak my mind about anything that interests me.
The downside of accepting payment for pre-written posts – is where is the line when it becomes financially irresponsible for my family to not accept paid posts?
Assume 2 x month x $500 each – I am giving up potentially $12,000 of additional revenue (possibly more) a year.
Clearly I think my integrity and peer influence is worth much more than this.
Thankfully Mark's shares my view and we may be the last 2 bloggers not to accept "cash for posts".
Are we crazy? Is this becoming a real issue that needs to be addressed through tighter regulation?
What is your view?
Please leave a comment below or tweet me @AndrewGrill