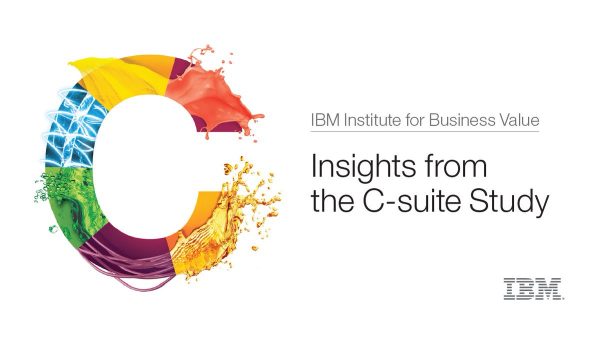 Back in August, I blogged about a preview of an IBM Institute for Business Value report that surveyed 4,000 C-suite executives.
Today the full report has been released – and it makes for fascinating reading.
The report surveyed 4,183 CxO leaders in 70 countries, with a mix of the C-suite from Chief Executive Officers (CEOs), Chief Financial Officers (CFOs), Chief Human Resource Officers (CHROs), Chief Information Officers (CIOs), Chief Marketing Officers (CMOs) and Chief Supply Chain Officers (CSCOs).
The IBM study offers insight into how these leaders view the world, their priorities and how they are preparing for the future.
Three major themes emerged. Today's C-suite must:
Open up to customer influence
Pioneer digital-physical innovation
Craft engaging customer experiences
For me, the most interesting part of the report is that CEOs now see that customers are at the heart of the future of their company.
CEOs interviewed in the survey shared that they thought customers exert a bigger influence on their organization's business strategy than all but the C-suite itself – see the graphic below (click for larger image).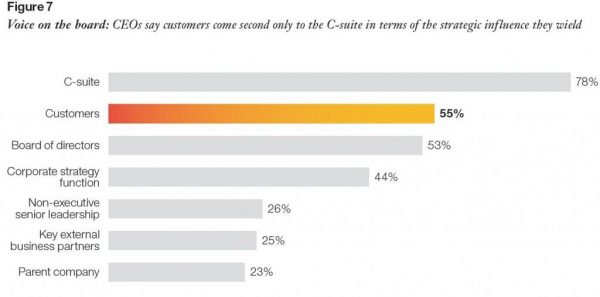 More than half of the CxOs surveyed say customers now have a considerable influence on their enterprises (see figure below). Companies identified as "outperformers" are 24 percent more likely than underperformers to have given the customer a prime seat at the boardroom table.
Interestingly, some of the most advanced enterprises are establishing customer advisory boards to get direct input on strategic issues.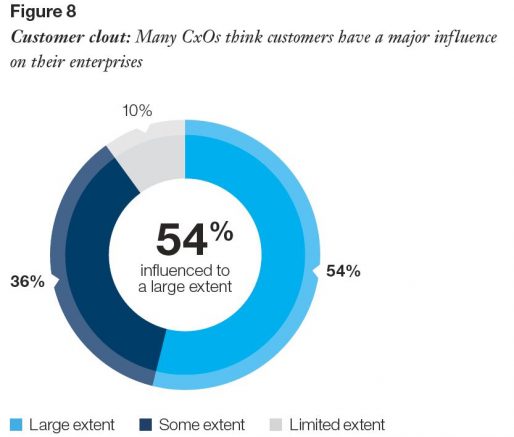 The key insights for me are that these enterprises realize that the groundswell of opinion and innovation being shared on social sites, blogs, twitter chats is the same as customers banging at the door and demanding to be heard.
Savvy leaders know that online input is a vital part of the discourse and have plumbed their organizations to listen closely. Those at the forefront don't just invite customers in for a chat; they recognize it as an urgent call to action.
This is where social business comes in, and companies learn how to move beyond having social in the marketing department, and instead plug social insights into all parts of the organisation.
Lately, I have seen discussions about the need to "ditch the term social media", in favour of calling everything social business.
Underperforming companies are just starting to use social media, while their outperforming competitors already have a strategy to put social first, and become a social business.
You can read my previous coverage of an excellent Altimeter report Authored by Brian Solis and Charlene Li on the 6 stages of social business adoption which will help validate my thinking around this.
The impact of social features prominently in the IBM report, and in the second of the major themes "Pioneer digital-physical innovation", we hear how CxOs are rapidly realising that they need a strong digital strategy in place – as the figure below explains.
I loved the breakout quote by a CIO in Turkey: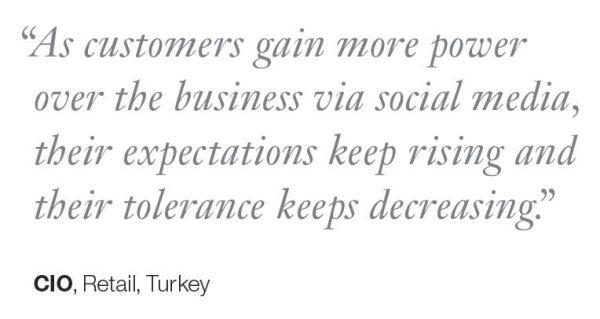 One of the key findings from the report was that the lack of a cohesive social media plan is the biggest barrier to an integrated digital-physical strategy, and how how social media fits into the mix.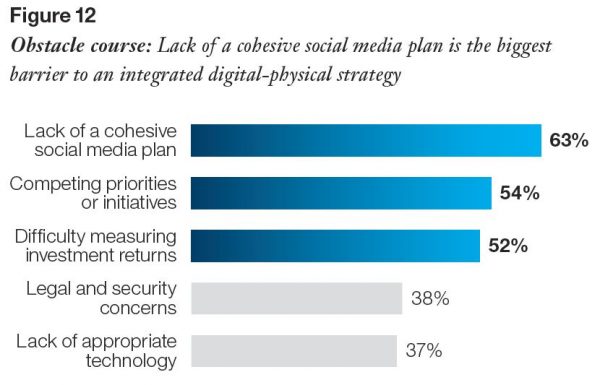 Apparently when IBM's Watson analysed more than 10,000 natural language responses, it uncovered the fact that CxOs simply don't know how to strike the right balance between the social, digital and physical worlds.
Quoting directly from the report (emphasis is mine)
"Understanding the return on investment is also a challenge, particularly if organizations view social simply as something they snap on to existing workflows.
Its value is realised when social inspires entirely new ways of working, learning and orchestrating processes across the organisation and beyond.
Easily said, but social is one place where many executives find themselves standing on the sidelines if not well behind the lines — as enfranchised employees channel enthusiasm and energy to test the waters.
CxOs can't stand by, waiting for a clear strategy to emerge.
They have a role, and one they must step up to, to ensure that their organizations focus social business on issues that are core to the company's overall strategy and brand."
The survey found that outperformers are ahead of the game (see below), and they are pioneering innovation at the intersection of the digital and the physical to transform their organizations.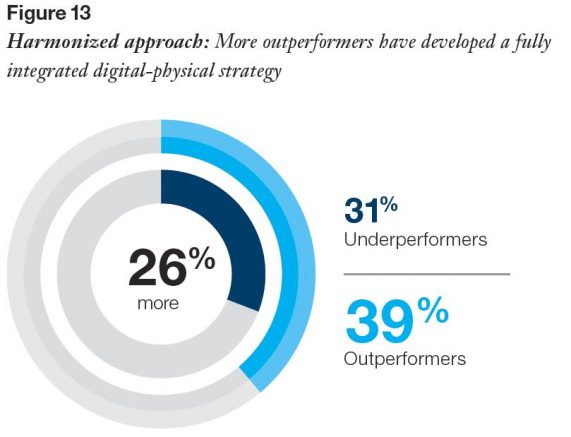 What this says to me, is that CxOs need help. They don't need to be told about getting more likes, follows or fans on social media, they need to have someone help them understand how as a social business, they can become outperformers and completely re-engineer their business.
This doesn't come about without a corresponding cultural change as part of becoming a social business.
Expect to hear more from me on this subject in my upcoming posts.
You can grab the full report from the IBM IBV site – it is probably one of the most comprehensive C-suite reports you will read this year.