In the UK, the competition between High Street chains is intense.
Not only are the 5 large chains looking for a larger share of a consumer's wallet or purse, but they also want the data that goes with it – linking each purchase to the individual profile of a shopper.
Two competitors are taking a very different approach to loyalty and consumer data.
The leader in both fields for some time has been Tesco. Not only are they the largest UK retailer, and are number 3 in the world behind Walmart and Carrefour, but they were also one of the first retailers to really understand the power of big data.
Introducing Clubcard
In 1993, Tesco's then CEO, Terry Leahy was looking for the next generation of loyalty cards. Tesco had provided Green Shield (trading) stamps for some time, but it is pretty hard to get insights and analytics from stamps. Clive Dun together with Edwina Dunn sold the concept of an intelligent loyalty program to Tesco via their company DunnHumby.
Clubcard is the envy of other retailers because it links an individual shopper (via their Clubcard number) to every single transaction they make. In return for logging every transaction and demographic information provided by the Clubcard member, they receive valuable loyalty points.
Enter Waitrose, the up-market (middle class) grocer, who is part of the John Lewis Partnership.
They have launched their own card called myWaitrose. They don't have anything near the sophistication of Clubcard, so are looking for ways to have their customers rapidly sign up for their loyalty program.
According to Mark Price, Managing Director of Waitrose, "loyalty cards are 'meaningless' – consumers want immediate rewards".
In stark contrast to the Tesco Clubcard approach, Waitrose has decided to provide more near-term and tangible rewards such as Spending £5 and receiving money off your shopping when you buy selected newspapers or winning back the value of your groceries, as well as 10% discounts.
The most visible and immediate benefit of the myWaitrose loyalty program is free tea or coffee every day. Waitrose has installed coffee machines in their stores (the one below is from my local Kensington High Street store), and last week when I visited the store there was a steady stream of people lining up for their free coffee.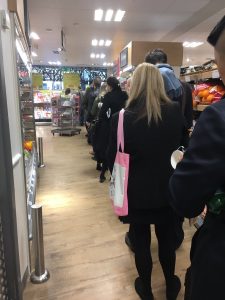 Big data is key to any loyalty scheme
It doesn't matter what the consumer benefit is (be it money off, holidays, or a free coffee), the real prize here for the retailer is big data. Companies such as Tesco and Waitrose need to attach purchase history to an individual and learn as much as they can about that person to help their marketing efforts.
I do hope that Waitrose has taken a leaf from Clubcard and produced a sophisticated CRM behind the scenes. One also hopes that the loyalty scheme will become socially enabled and social data is captured as part of the process (with permission).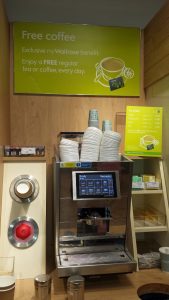 As outgoing Burberry CEO Angela Ahrendts said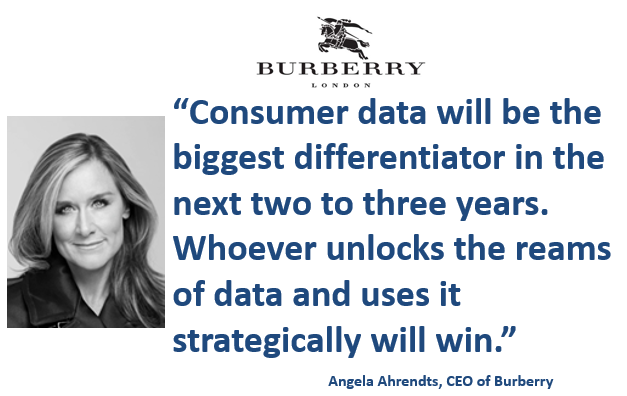 When talking about big data and groceries, this cartoon I saw recently made me laugh.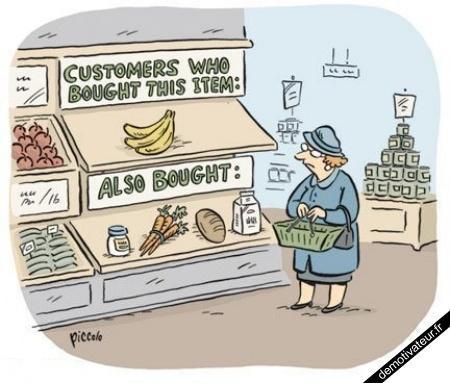 Unexpected side effects
Over the Christmas period, news reports of a "middle-class revolt over free coffee loyalty card" were appearing about the Waitrose free coffee offer.
Angry shoppers used Facebook and Twitter to vent their frustration, arguing that handing out free drinks is turning Waitrose into a soup kitchen and the stores are packed with less affluent customers, which is putting some customers off.
Quoting one Waitrose shopper, "I think seeing people walking around the store holding on to takeaway cups of tea and coffee looks quite ridiculous and brings down the image of Waitrose until it is just like everywhere else – in which case I might as well shop anywhere else."
I wonder if Waitrose considered human behaviour and the lure of an instant reward, delivered in-store rather than months later via the post when they designed the program.