I have been a big fan of Wimbledon, and back in 2009 before I joined IBM, I went to the Championships as a guest to blog about their use of an Augmented Reality app called Seer – read more here.
When I was at IBM, I was very fortunate to be able to attend the Championships and host clients and bloggers, and show them the magic "behind the scenes".
In 2014, I hosted David Terrar, who posted a fantastic summary of what he saw here, as well as Gabrielle Laine-Peters. This year I am hosting Neville Hobson (@jangles) and Alan Patrick (@freecloud) – all well known in the Social Business circles in Europe.
As such, and with my former role as the Global Managing Partner at IBM running our Social Consulting team, I have a vested interest in how Wimbledon is doing on social media.
It was with interest that I spied a report in the Sports Business Daily quoting a report by Repucom.
The key findings from the report I have summarised below, and the full report can be found here.
Wimbledon is the biggest and best Grand Slam tennis tournament when it comes to engaging and maintaining its social media fan base around the world, a study by Repucom, the sports and entertainment intelligence experts, has found.

Wimbledon is leading all Grand Slam tournaments when it comes to engaging and maintaining its social media fan base. Wimbledon has more Facebook, Twitter and Instagram followers than the Australian Open, French Open and U.S. Open, with a combined fan base of more than 4.1 million. Roland Garros is in second place with a social media fan base of 3.7 million.

Not only is Wimbledon's fan base bigger, they're also "noisier". Twitter buzz (analysed by tracking the most popular keywords and hashtags associated with each tournament) peaked during the 2014 final with over 585,000 posts. This number was almost double that of any other Grand Slam.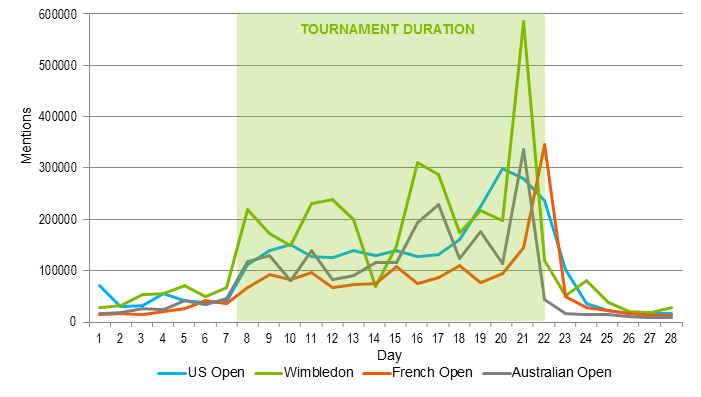 The chart above (Source: Repucon) shows Twitter mentions per day for each tournament in 2014 (measured seven days before start, throughout tournament and seven days after)
This fan base is also engaging more with official content across Facebook, Twitter and Instagram and engagement can be translated into potential media value for partners. Using Repucom's social media valuation methodology, Wimbledon posts which centred on score updates are almost 33% higher than the other grand slam opening days so far in 2015.

Max Barnett, Repucom's Head of Digital (UK&I) said: "Wimbledon's use of archive footage among other content themes, or as we call them, "fan stories", are what drives the tournament's dominance in tennis while staying true to their strong, brand values. Here fans are not just kept up-to-date with scores during the Slam, they are given exclusive "behind the scenes" access delivered direct to their mobile devices. All this content is packaged up in engaging infographics and short format video.
Great to see how Wimbledon uses an array of rich content to bring the tournament to life for those who can't actually attend in person.
One way that IBM is helping the All England Lawn Tennis & Croquet Club (or AELTC – the full name of the club that runs Wimbledon and owns the grounds at SW19), is by providing them with an internal Social Command centre to surface this great content in real-time during the tournament.
See a sneak peek below (this is only visible to the AELTC so I can't share a link, unfortunately).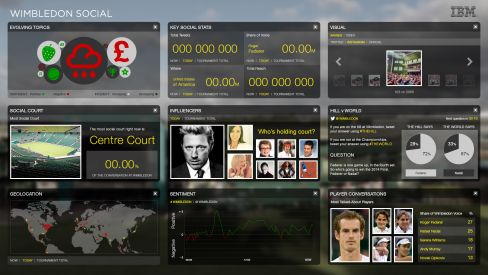 Keep an eye out for blog posts from Neville and Alan after their visits to Wimbledon, and of course, follow @Wimbledon for all the best Championship news and views.
I really think I have the best job (and team) in IBM!
PS I'm hiring globally for Social Business Consultants. I am building the World's leading global Social Consulting team. Contact me if you're interested or meet me in New York on the 15th June – details soon – follow me @AndrewGrill to get the location.