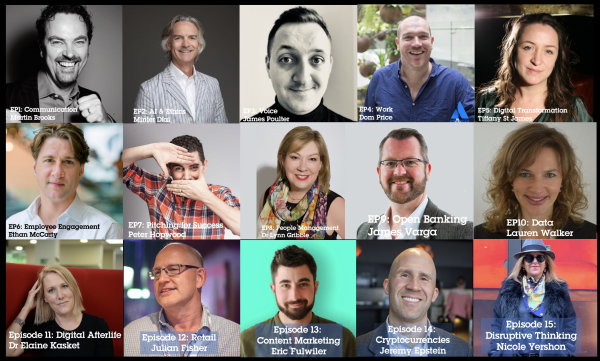 As many readers know, in 2019 I started The Actionable Futurist™ Podcast. With 15 episodes in the 1st series, it has been hard to pick my favourites, so I let the analytics do the talking. Presented below are the top 10 episodes of 2019 from 1 – 10.
[buzzsprout episode='1345027′ player='true']
This special episode was recorded live in front of an audience at Australia House in London during Tech Week, hosted by The Australia United Kingdom Chamber of Commerce where we discussed a range of topics relevant to companies of any size, and in particular, how Atlassian has learned to scale while keeping their employees happy. I'm not surprised it was the post popular episode of 2019.
Number 2: The Future of AI and Ethics
[buzzsprout episode='1232126′ player='true']
My good friend Minter Dial and I looked deep into the question of ethics in Artificial Intelligence. This is a topic that will keep many people engaged in 2020 and beyond. This was a fascinating episode to record.
[buzzsprout episode='1747183′ player='true']
Former IBM buddy Lauren Walker, who now is the COO and Chief Data Officer for Dentsu Aegis Network provided a fascinating insight into how her agency uses data, and the opportunity for brands in the age of data.
[buzzsprout episode='1274374′ player='true']
James Poulter from Vixen Labs gave us a whirlwind tour of the future for voice-enabled technologies – exciting while at the same time confronting in a world of "always-on" voice services.
Number 5: The Future of Communication
[buzzsprout episode='1207997′ player='true']
This was the pilot episode, recorded with my friend, and Impacttologist Martin Brooks. Martin has enabled me to grow as a public speaker over the last few years and his practical tips should be heard by anyone who presents in their role at work, or aspires to.
Number 6: The Future of Digital Transformation
[buzzsprout episode='1373305′ player='true']
Digital Transformation has become a buzzword of late, with many people claiming to be an expert in this space, however Tiffany St James has actually done it from within the UK Government and continues today – her advice and insights are invaluable.
Number 7: The Future of Employee Communication
[buzzsprout episode='1466920′ player='true']
Another former IBMer Ethan McCarty and I spoke about the emerging space of Employee Communications, and how getting this right can enhance your bottom line. Another great episode packed with tips and tricks from a veteran practitioner – based in New York.
Number 8: The Future of Pitching for Success
[buzzsprout episode='1527631′ player='true']
I met Peter Hopwood when I was presenting a keynote in Zagreb some years ago. If you pitch for a living – this episode is for you.
Number 9: The Future of People Management
[buzzsprout episode='1527637′ player='true']
Dr Lynn Gribble is based in Sydney and we first met in the late 90's when we were working for Australia's number 2 Telco, Optus. We've been friends ever since and I could listen to her for hours to talk about how to get the best from your teams.
Number 10: The Future of Disruptive Thinking
[buzzsprout episode='2198618′ player='true']
Nicole Yershon is the disruptor's disrupter and a kindred spirit. She helped to drag Ad agency Ogilvy into the 21st century back in the 90s and today she continues to help large corporates think disruptively.
Which was your favourite? You can subscribe to the series via podc.st/listen or search for "Actionable Futurist Podcast" in your favourite podcast app.
We'll be back in early 2020 with season 2 of the Podcast – stay tuned!