When:
29 September 2022 @ 10:30 – 11:30
Europe/London Timezone
2022-09-29T10:30:00+01:00
2022-09-29T11:30:00+01:00
Where:
The New Yorker Gallery
Hopton St
London SE1 9LR
UK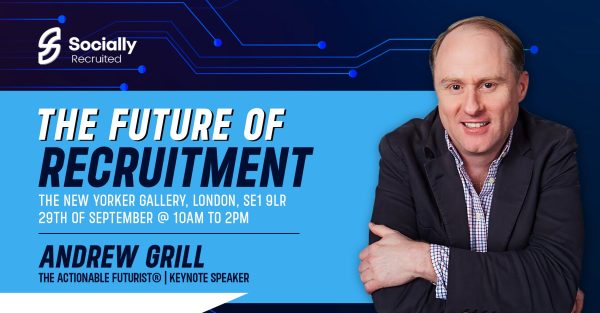 Andrew is headlining an event for Socially Recruited Clients and Partners with two performances – one at 10:30 and the second at 14:30 on Thursday 29th September.
Andrew will be providing a view on Web3 and the Metaverse and how it relates to reruitment.
Each talk will have an audience of just 50 people, mostly recruitment directors of many of the world's largest organisations and media agencies, the likes of Amazon, DHL, and HP.
This is the first in-person event Socially Recruited has run for clients and partners.
Aimed at anyone who works in, or is interested in, cutting-edge recruitment strategies, or wants to find out what the metaverse, web 3 & social media automation is and how these will impact recruitment. Let us know if you want to bring along your colleagues!
What will be covered?
What is Web 3 and why is it important to stay ahead of the curve, especially in the recruitment industry?
What is the true potential within the Metaverse, Web 3 and Social Media Automation?
How will the Metaverse offer opportunities for brands to engage with potential job candidates in the future?
What can we do now to extract the most value from the current opportunities while we are preparing for the future?
How the candidate's journey has changed over the years and what is the best approach we should take now?
Join us for an in-depth panel discussion, networking, Special META Quest 2 give-away, free drinks, and many other surprises on Friday 15 of July, 3pm onwards.
Agenda:
10:00 – Guest arriving, networking
10:30 – The event starts and the first speaker joins the stage
13:25 – Announcing the winner of the Meta Quest give-away
13:35 – Knowledge Drops/ Networking
Sign up here.