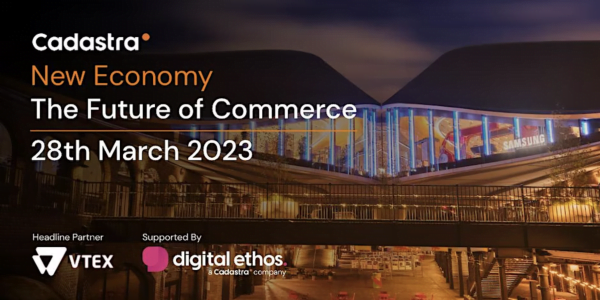 The New Economy is a series of live events where we convene industry experts to showcase new technology, celebrate innovation, and create discourse around the best way to build sustainable ecosystems for the future.
Cadastra is bringing together industry experts from platforms and brands to uncover technology's role in the evolution of commerce globally.
The pandemic accelerated digital transformation across the retail sector, but according to ONS eCommerce still only represents roughly 20% of overall retail sales in the UK.
The event will uncover the challenges for online commerce and look at what the future holds for the sector.
Topics to be covered
• Omnichannel
• Consumer Behaviour in a Post-Pandemic World
• Borderless Commerce
• 1st Party Data Strategy
• Shopping in the Metaverse
• Social & Conversational Commerce
The event will be hosted in the Samsung facility in Coal Drops Yard, Kings Cross.
Event Agenda
8:30 — Arrival and Coffee
9:05 — Welcome
9:15 — CEO Address — Gustavo Bacchin, CEO at Cadastra and Luke Tobin, CEO at Digital Ethos
9:25 — One World, One Market. Embracing Omnichannel & Borderless Commerce — Ken McFarland, Global Head of Digital & eCommerce, Unilever Homecare, Patricia Amaro, Global General Manager, Reckitt, Molly Dobson, GM / Managing Director, Currys Business
The growth of digital commerce has opened the door to unparalleled opportunities for growth. Amid a background of economic uncertainty, these opportunities are paramount to success. We will explore the challenges and measures brands must capitalise on and overcome.
10:00 — The Devils In The Data! How 1st Party Data will impact B2C/D2C & B2B Commerce — Susie Alegre, Humanitarian Lawyer, Gustavo Burnier, Chief Marketing Officer, Usercentrics, Cicero Hennemann, Head of Digital Hub, Western Europe at Reckitt, Dharmesh Damani, Data & Tech Lead, Google
With the sun setting on 3rd party data, the requirement for a robust, 1st party data strategy is critical. This need applies not only to the B2C/D2C sector but also to those working in B2B. This panel will explore these sectors' challenges and the opportunities 1st party data can provide.
10:30 — Networking Break
11:15 — VTEX Plus Co-Curated Sponsor Session — James Atkins EMEA eCommerce & Telco Marketing Director at Motorola (a Lenovo Company)
11:50 — Who, What and Why: Exploring Consumer Behaviour In The Physical & Digital Worlds — Annie Siara, CEO and Founder, Lunique, Dan McGrath, Customer Operations, JD Sports Fashion, Alan Hunt, Partner, Lewis Silkin
The pandemic accelerated ever-shifting consumer expectations, and now the rise of more immersive digital experiences has turbo-charged those behaviour changes. In this panel, we will seek to understand consumer behaviour in and out of the metaverse and explore how these will open the door to incredible new possibilities.
12:20 — Closing Statement — Gustavo Bacchin, CEO at Cadastra and Luke Tobin, CEO at Digital Ethos
12:30 — Finish
13:00 — VIP Reception at The Lighterman, Granary Square
More details on the event at cadastra.live and you can grab your ticket here or contact Andrew about VIP tickets.