Andrew was joined by Marketing leaders from SambaNova, Faculty, and Criteo to discuss New Economy: AI, Data and Technology in Advertising.
Fabulous photography below from Bimal Photo.
Andrew is a consummate professional, and seasoned expert when it comes to public speaking. Not only is Andrew truly affable, incredibly knowledgeable, and able to command good stage presence, his focus is on delivering high-level content in a truly engaging way. His talk was fantastic and was pivotal to the success of the evening.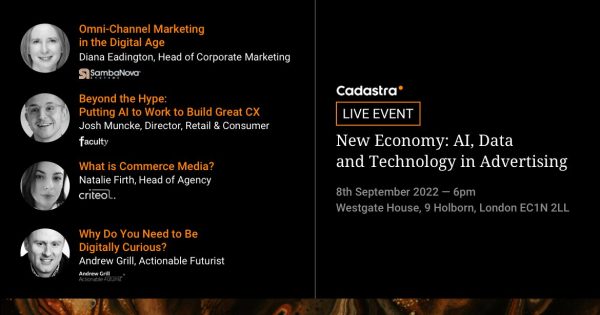 Speakers
Diana Eadington – Head of Corporate Marketing at SambaNova.
Diana has more than 20 years of experience leading and executing marketing and go-to-market strategies for startups and global enterprises bringing disruptive technologies to market.
Josh Muncke – Director Retail & Consumer at Faculty.
Josh is Director of Retail & Consumer at Faculty and has 12 years of experience in building and leading data science teams and projects across Retail, E-commerce, Consumer Goods and Travel.
Natalie Firth – Head of Agency at Criteo.
Natalie heads up the UK agency business at Criteo. Based in London, she is a core part of Criteo's strategic expansion to a full-funnel marketing partner for the open internet.
Event details
Cadastra is LatAm's largest independently owned digital performance, MarTech and consultancy company.
To mark the launch of our European office, we will be hosting an evening of drinks & discourse.
Convening industry leaders from across brands and media owners to advertising businesses and tech giants to debate the future of technology in advertising.
The New Economy is the first in a series where we will be bringing together industry experts to showcase new technology, celebrate innovation, and challenge the status quo.
Why Attend:
Learn about how AI can help optimise your campaign performance
Understand how to utilise data in a more impactful way
Discover methods for integrating AI into your marketing strategy
Learn about how technology is shaping the future of advertising
Networking with industry leaders
Event Program
18:00 – Doors, Drinks, Networking
19:00 – Welcome Speech – Gustavo Bacchin, Cadastra EMEA CEO
19:15 – Omni-Channel Marketing in the Digital Age, Diana Eadington, SambaNova – Learn about how technology is upending the omnichannel marketing experience, impacting customer journeys, and driving results for businesses.
19:35 – Beyond the Hype – Putting AI to Work to Build Great Customer Experiences, Josh Muncke, Faculty – This talk will provide some up-to-date, hype-free lessons on what market leaders are doing when it comes to actually using AI to build differentiated customer experiences and deliver sustainable commercial results.
19:50 – Drinks & Networking
20:15 – What is Commerce Media? Natalie Firth, Criteo – Insights into the rise of commerce media, what a cookieless future means for our relationships with our customers and how retailers and non-retailers can build their commerce media data strategy.
20:35 – Why do you need to be digitally curious..? Andrew Grill – The Actionable Futurist® will provide some high-value leadership insight, opinions on the state of digital disruption, and some key ideas for how to use and understand technology to enable you to be ready for a digital-first world.
20:50 Closing Statement – Gustavo Bacchin, Cadastra EMEA CEO
Sign up for the event at cadastra.live