Andrew provided the opening keynote at The Lawyer 2019 Business Leadership Summit.
One delegate, Jeremy Hopkins from Field Seymour Parkes commented on Andrew's presentation: "You made things seemed simple, obvious even, yet original (even to this seasoned innovation conference veteran) and prompted new angles of thought, when I'd previously thought I had it all covered!"
The Lawyer also covered Andrew's participation in an article on their website.
To see other keynotes and companies Andrew has presented to in the legal industry, please visit the legal keynotes page.
The Business Leadership Summit is an annual event designed to create and debate answers to the big challenges and questions around running a successful law firm as a business in an increasingly competitive environment.
The Summit is focused on a back to basics theme with this approach running throughout the sessions which mainly focus on technology, AI and hype in the industry. The key-note will start the day with a futuristic perspective, to be followed by technological, collaborative and partnership sessions.
Andrew's keynote was titled: "Back to the future: Future-proofing yourself in the digital age."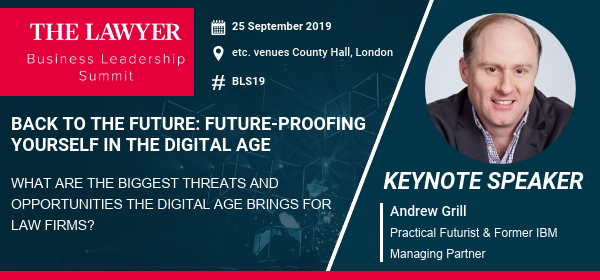 The talk covered the biggest threats and opportunities that the digital age brings for law firms.
The keynote will be a prospective futuristic delivery with predictions on where the digital age is leading law firms, what threats will the legal industry face in the wake of the technological advancement? How can law firms digitalise their processes strategically to ensure they are still viable in the future. How do you digitally future-proof yourself?
The keynote also addressed how law firms can keep updated and not fall behind in this new technological era.
We can't deny the technological advancements, so this address is to discuss how to keep up and ensure that you are not left behind whilst the legal profession is ploughing forward in the technology sector to speed up processes and be both efficient and viable in the services that it offers it clients. How can digitalisation help to this end? What are the potential challenges and/or disadvantages to this new digital age?