The flavour of my posts recently have been about the Facebook scandal, where Cambridge Analytica was exposed as having used Facebook data to prepare detailed profiling on users to target them in the US and Brexit elections.
In each of my posts, I spoke about consumers owning their own data, Facebook's real-world problem in being beholden to all of their revenue coming from advertising, and finally the fair value exchange of personal data, where I alluded to this case study of YouTube vs Vimeo.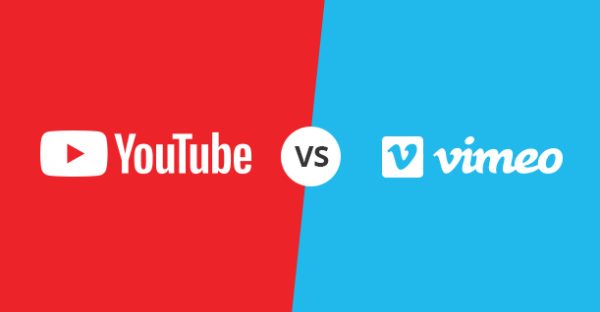 You may never have heard of Vimeo, or like my Daughter Madeleine who at the ripe age of 11 is a self-proclaimed "YouTuber" may think that Vimeo is "daggy" because, simply it is not YouTube.
Vimeo does not try to be Youtube. In their own words, they are a "creator-first platform"
Vimeo also has a free version. I joined as a member in 2009 and did not become a playing "plus" member until 2012.
As a professional speaker, I needed a place for all of my videos. While I still post to YouTube (mainly for reach, in the expectation that someone searching for what I do will find one of my videos), I have very little control on how my videos are presented on YouTube.
I don't want potential clients to have to sit through a 3, 10 or 30 second "pre-roll" advertisement (or of late an ad halfway through) in order to see my content.
I do realise though (as the main thrust of my recent article) that if I don't pay YouTube to host my videos then I should expect that there is some "fair value exchange" in return for them paying for the hosting.
In this case, in return for free video hosting on YouTube, I have to endure ads across my videos.
In comparison, as I am a paying Vimeo customer, there are NO ads. I also have the option on my Vimeo Premium account to show "cards" – on-screen calls to action to visit my website etc. All of this I have full control over.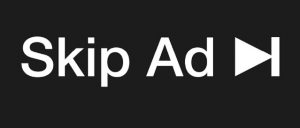 This is the one thing I never want people to see when they watch my content.
While I expect there to be a difference in support and features between a free service, and a paid one, what happened to me a few weeks ago surprised me, and made me better understand how YouTube sees it's "free users" and they way they support (or in my case ban) users on their site.
Back in February, ahead of a talk by famous Mathematics Professor John Lennox at my local Church, I decided to invest in some live-streaming equipment so I could livestream the talk.
The question where would I stream the talk to?
As it was free and I had access to YouTube, I decided to livestream it there.
If you are interested you can watch a replay of the talk here (with the video embedded and sans-ads from Vimeo).
After the event, I investigated the (paid) Livestream options from Vimeo. Late in 2017, Vimeo acquired Livestream so they had started to roll out their new live streaming product.
Vimeo allows you to livestream to their platform AND simulcast to other platforms in real-time such as Facebook Live, Periscope and of course Youtube.
Getting banned from Youtube.
While testing my new toy, I streamed some footage looking out of a window to Vimeo and YouTube. Probably I streamed a whole 3 minutes of this scene. Pretty boring I know, but I was testing.

Imagine my surprise when moments later I received this email from YouTube.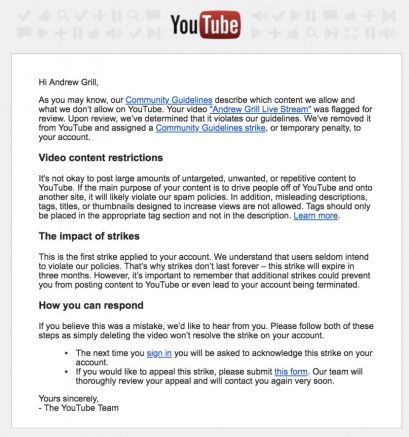 This test had "violated YouTube community guidelines". Not only would my video be deleted (no issue as it was just test footage), but I would also receive a "strike" against my account and lose my live-streaming privileges for 3 months!
Quite heavy-handed for some boring test footage and one of my first experiences with YouTube live streaming. As a side note, I have had a YouTube "creator" account for more than 10 years. I was one of the first people in the world to be able to upload videos longer than 10 minutes (hard to believe there was this limitation at all).
Of course, I tried to respond via the link in the email – and it went nowhere.

It seemed like YouTube really did not want my business!
If anyone from Google or YouTube is reading this post, please can you contact me so I can get this strike lifted from my account.
Update: July 2018 – the strike was lifted and I am still none the wiser as to why I received a strike in the first place.
I was getting a real taste of how free services support their (non-paying) customers.
Over at Vimeo, it was a very different story.
I was having a few issues with my Vimeo Livestreams so I contacted them via the contact form within my account.
Within a few minutes, my question was acknowledged and within the hour they were helping me out. I've had a few issues while live-streaming from events and Vimeo have bent over backwards to help me, even crediting my account to compensate me for a few issues I've had.
I'm glad to say that the issues I've had have all been addressed and Vimeo have gone out of their way to support me.
This is the real difference between free and paid services.
While YouTube is great (and free), I have to put up with ads appearing before and sometimes over my videos, the slightest hint of breaching their community guidelines (and I still can't understand why my 3 minute test breached their 'guidelines') and I'm banned AND I can't contact anyone there when I need support.
Vimeo has always been the friend of professional filmmakers, and for professional speakers like myself that need full control over how their videos are presented online, Vimeo is the only real alternative.
What this whole YouTube vs Vimeo experience has taught me is that free services aren't really right for those who want control over how their work is presented.
YouTubers are ok with YouTube putting ads all over their content because it provides them the platform for free.
With the latest issues around the use of data by Facebook, now more than ever the issue of what free networks can do with your data should concern anyone that creates their own content.
You can see my Vimeo channel here, and watch my content ad-free in the way I have intended it to be viewed.
What is your experience with free vs paid services? At what point do you start paying for a service you have come to rely upon in order to get the support and features that are supported by paying customers?
As they say, you get what you pay for, and in this instance, it is very true.