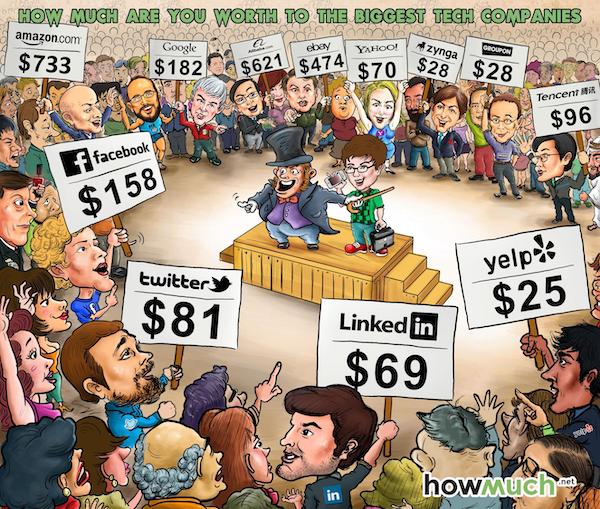 What is a fair value exchange for your personal data? £10, £100, a John Lewis Voucher, a free meal, free WiFi or something else.
Ordinary consumers with no real grasp of the "backstage" workings of Facebook are now hearing that their data may have been used against their will to drive election advertisements in the US and UK. I wrote about this earlier.
I read with interest this morning that visitors to this year's Commonwealth Games on the Gold Coast in Australia will be provided with "free" WiFi in exchange for some of their Facebook data.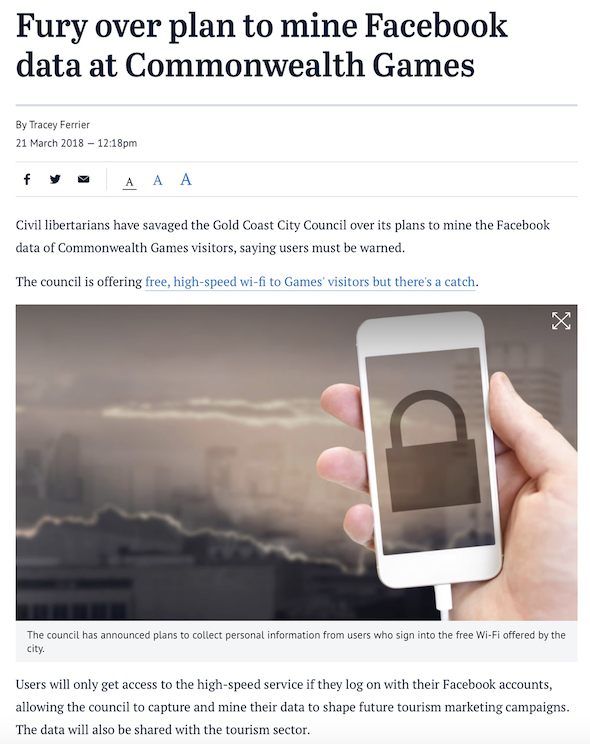 I think 2018 will be the year that consumer finally wakes up to the fact that their personal information has real value, and will want to realise that value. According to reports, games users who don't log into the free Wi-Fi via their Facebook accounts will face slower internet speeds. In 2018?? Seriously?
Companies such as Purple WiFi provide many of the "free" WiFi services at restaurants and pubs around London and the UK.
You may be familiar with this login page that asks you to enter your social feed – called a "social login".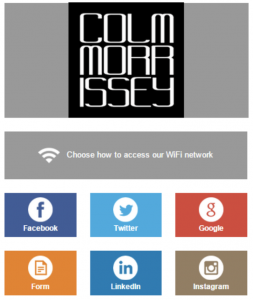 I NEVER use a social network to log in, instead, I have a separate email address I only use for Purple WiFi and other providers, so I am giving away the least amount of information. To do this next time faced with the options above, always use the "form" option and set up a separate or disposable gmail or another free email account so as not to give your main email address away.
Here, I have assessed that the value exchange for free-wifi with my meal is the least amount of information I have to give which is a disposable email address – practically worthless to a marketer.
In fact, I can't understand why in 2018 you have to PAY for WiFi with your meal with your personal information. Imagine if the waiter came over and offered you parmesan cheese, or cracked pepper and then asked for your social media data in return.
We'd laugh them away, but we will give up our social profile information in this very one-sided WiFi<>personal data transaction. You don't have to be on the losing side of this value exchange anymore.
Recently in a restaurant in London, I was asked to complete a survey on a restaurant-provided phone at the end of my meal.
The app is provided by "Yumpingo" and their tagline is "food intelligence". This is in stark contrast to the app, which asks you via a very, very clumsy UI "what did you have?"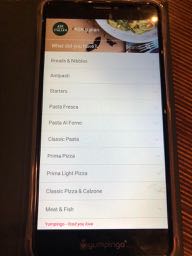 I'd been asked to do it before and I remarked to the waiter then that it was quite hard to navigate, and you had to tell the app what you had eaten, even though the restaurant knew what you had – so they could charge you the right amount via their POS.
At the table next to me, an older lady was struggling with the app and took several minutes to complete what the maker of the app says should take "46 seconds".
With the whole Facebook/Cambridge Analytica mess in my mind, I thought deeply about how we are willing to give information away about ourselves for zero return, even though companies make a great deal of money from the information we willingly provide.
There has to be a fair value exchange for this information and I think the Facebook/CA crisis highlights that we've been too passive about this for too long.
I think that perhaps in 2018 we will see the start of a real personal data revolution.
In an earlier post this week on Linkedin, vendors have weighed in about services such as people.io, digi.me and others.
In order to understand them in more detail. I signed up and tested these services, and unfortunately, they don't go far enough – yet.
They all say the right things, however, in this pre-GDPR world, companies are not obliged to provide us with our own data in a machine-readable format just yet.
Peoople.io claims to "realise the value of your data", but really is a survey tool that pays you as you answer more questions about yourself – this is not new, just an old concept wrapped in a slick app. The "free" mobile network "Blyk" offered young people (we didn't call them millennials 10 years ago) free calls and text in return for … answering survey questions.
One reason they failed, is that the demographic they were going after was time rich (to talk and text and take surveys) but cash-poor to spend money on the services they were being told about via ads.
Digi.me has promise, however, because the only platforms that provide accessible APIs are the social networks such as Twitter, Instagram, Facebook, and FitBit these are the only services I can use at present.
Where these two services fail though is that companies that I deal with on a daily basis don't (yet) make it easy for myself, or a 3rd party like People.io or digi.me to get access to the data that is rightfully mine.
Going back to the restaurant example, after the 25th May (GDPR-Day), I legally should be able to contact the restaurant (Ask Italian), and if I contact them electronically, under "recital 63" of the GDPR legislation, they need to send me the information that they have collected on me (in this case my restaurant review survey responses, as well as the profiling information they have on me) in electronic format. Bingo! This is what I need – data in a format that I can store and analyse easily.
Now I'm not that fussed about scooping up restaurant review data on me, however, for people.io or digi.me to be really valuable, I'd want them to be my digital-broker and grab this information (and any updates) on my behalf.
In my ideal world, if the restaurant wanted to contact me or update my details, they would (electronically) contact my digital-broker (which ideally would be powered with AI) to obtain further consent for the use of my data, and also synchronise the latest information they have on me, so also "have it on file".
Until GDPR kicks in and more services can act as these 3-rd party brokers to source, retain and provide insights on the data, we'll be beholden to the "take a survey and get paid" model that seems to exist today.
Both the services I mention have promise, but they can't claim to "realise the value of my data" if the only currency is money (or vouchers) for me providing basic information.

Later in the year, as the UK's Open Banking (and wider EU Payment Services Directive number 2 or PSD2) is rolled out, consumers will start to see the power of having transparent access to their data.
When I can pull data from multiple financial institutions and have my bank (eg with the HSBC Beta app) or a smart FinTech make sense of the data, then consumers will realise it truly is time to take back control of their own data.
2018 will be a very interesting year, and the Facebook/Cambridge Analytica issue just heated things up around personal data.