Hot on the heels of the news that UK mobile operator O2 has seen a drop of ONE MILLION customers calling their call centres, research commissioned by Australian telco Optus suggests that Australians still prefer visiting a store or using a call centre over digital alternatives such as mobile and social media.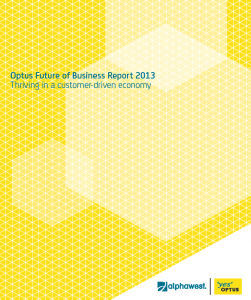 Optus Business engaged Stancombe Research + Planning to conduct qualitative interviews and survey 550 customer experience, marketing and information technology decision makers from organisations with more than 100 employees in 10 industries and government in Australia.
In addition, they also surveyed 2,177 Australian consumers aged 18 and older about their current and future expectations of interacting with organisations via traditional and digital channels.
The results from the consumers surveyed shocked me somewhat as the headline news is that only 4% of consumers surveyed used social media in the last 3 months to interact with a company. Amazingly, the survey also showed that in 3-5 years this figure will rise to only 8%. Surely these figures are a typo??
The breakdown from the findings can be seen below.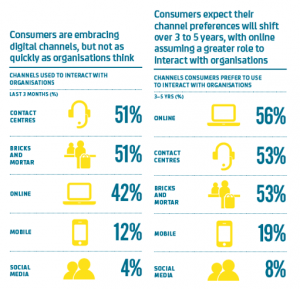 As someone who works extensively in the digital and social space in the UK and US, I find these figures extremely low, and expected Australian consumer use of social media to be in more in the 20-30% range, possibly higher.
For those of you that don't know about my background, I am Australian, and have lived in London for the last 7 years and most recently I was the CEO of leading social influence platform Kred, so I have a very global view of the social space. I lived in Sydney for 11 years, during which time I worked for both Optus and Telstra.

US Social Media use is strong and growing rapidly
In contrast to the Australian findings, a US study by Forrester in December 2012 showed "45% of people on social networks say they have interacted with a brand through social media over the previous three months". So just what is happening in Australia??
A similar US survey by NM Incite in 2012 on "the State of Social Customer Service" for the US market showed:
47% of all social media users have used social care, with usage as high as 59% among 18-24 year olds
71% of those who experience positive social care (i.e., a quick and effective brand response) are likely to recommend that brand to others, compared to just 19% of customers that do not receive any response
Nearly 1 in 3 social media users prefer to reach out to a brand for customer service through a social channel compared to the phone

30 – 50% of UK consumers interact via social
The UK is also showing high engagement figures across age groups, as can be seen from this Fishburn Hedges / Echo Research report from May 2012 titled "the social media customer". So a year ago, engagement levels of between 30% – 50% were evident, with this number to be probably 10-15% higher across the board in May 2013.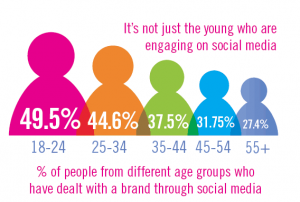 So clearly US and UK consumers are adopting social media as a way of interacting with companies, but Australia is lagging seemingly years behind.
To really show the differences between the Australian and UK markets (and remember that the UK report is now 12 months old), the graphic below shows that UK consumers actually favour social media over call centres by a factor of 9 times.
I am in that group as well – who wants to wait on hold "because your call is important to us…"?
In fact, I no longer contact call centres, I tweet! I have a number of well documented personal examples of where I was able to resolve a complaint via twitter, including this brilliant example of reporting a water leak via twitter using the hashtag #tweetaleak.

Why is Australia so far behind?
As an Australian expat, I am loathed to criticise my mother country, so I can only assume that either they surveyed the wrong people, or Australian consumers and businesses are really missing out on the benefits of social media and social business.
Given that the US and UK markets seem to be enthusiastically embracing social media for engagement and customer care, we need to look more closely at the Australian report for clues as to why Australia might be lagging so far behind.
Looking at page 12 of the Optus report, the measures used by companies as to the effectiveness of each channel provides us with a clue as to why social is a poor cousin of online, bricks & mortar and call centre channels.
Here we see a stark difference in how success in each channel is measured.
In social it is building the brand, improve customer service, and "to be seen as innovative".
In bricks & mortar it is to meet customer expectations, improve customer experience and to improve customer care and support.
The contact centre measures of success are similar to bricks & mortar.
My view though is that social customer care success can and should be measured in the same terms as bricks and mortar – ie customer expectations, improve customer experience and to improve customer care and support. Social is well placed to do all three of these AND help amplify the experience in real time.
In "bricks and mortar" – read "real shops", if I have a good experience, how can I share that at the cash register? I might yell with delight, but only the people next to me may hear. For a call centre, only the ONE person on the end of the phone will ever hear my delight.
On social, get it right and potentially millions can hear that your company got it right, and then go on to tell all of their friends via social media.

The marketing funnel is now the loyalty loop
In 2009, McKinsey published some ground breaking thinking showing how the "marketing funnel" has now become a "loyalty loop".
In 2013, this piece of research is now even more relevant. When we look at the impact of social media influence on purchase decisions, we see that the "active evaluation" part of the loop shown below now becomes even more influenced by social media interactions.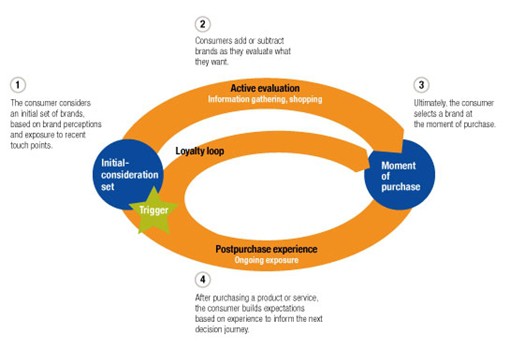 I think many companies globally are scared by social media. For many executives, it is not something they understand or feel comfortable with. Also, when an organisation signs up to social media, they pay the "twitter tax", allowing years of broken processes and policies to be exposed to the world.
Well one day a company without these legacy processes will set up and eat your business for breakfast, so why not embrace social now, listen to where you need to improve, then tell the world via social that not only are you listening, but you've become a better company as a result.

What happens to companies that are disrupted by digital?
Digital disruption recently caused the closure of UK camera store chain Jessops, and also claimed the scalp of 92 year old record chain HMV. Their reliance on the "high street" or "bricks and mortar" model, while ignoring the rapid uptake by consumers of digital channels caused their demise.
Late last year Deloitte Australia produced an excellent report titled Digital Disruption – Short Fuse, Big Bang?". The report examines those Australian industries most at risk from digital disruption and those that will simply be left behind when their more nimble counterparts embrace the power and cost effectiveness of digital channels over their traditional counterparts.
It is well worth a read, and also resonates in the UK and US markets.

Proof that Social is a force to be reckoned with
There is now an overwhelming body of evidence and thinking around how social media is now graduating beyond the marketing department and becoming a powerful tool in all parts of a social business.
I suggest you have a look at my past posts on the Altimeter "evolution of social business" report, IBM "Social Business Patterns", the Capgemini report on how digital leaders are outperforming their peers, as well as the Council on Foreign Relations speech given by IBM CEO Ginny Rometty earlier this year as excellent examples that prove the value of social for any business.
Social media, and social business is not a "nice to have" any more. In the more developed markets of the UK and US, there are now countless examples of how social media is transforming not just entire companies, but also entire industries.

So what does Australia need to do?
When I see reports from Australia showing results such as this …
I despair to think that my Aussie mates aren't using the evidence and experience from more mature markets to prepare for digital disruption, and promote social as more than just a response channel for marketers. Yes we all want to "meet customer expectations", but sitting in a phone queue or in a long line inside a store waiting to get served can't be that great for improving customer experience.
The fundamental problems with a bricks and mortar (storefront) and customer care model is they are synchronous. You have to wait your turn to get served.
In contrast, digital models such as online, mobile and social are asynchronous. We send a message, we get a response to say it is bring worked on and we go about our lives, knowing that in parallel our question, or transaction is being processed.
I think if the Optus survey had asked questions such as
"do you like waiting forever in a store queue or on the phone to get served?" or "if companies allowed me to interact effectively via channels such as social media would I use these instead?"… then we may have had very different results.
I think the real reason why the social media engagement score is so low in this report is that Australian companies are yet to really understand the needs of the customer and present them with an efficient alternative to that of going into a store, or waiting on hold.
If Australian executives looked at what is already being achieved with social overseas, and wake up to the fact that the old, synchronous service models are holding their company back, then when the 2014 survey is taken, we might see a much healthier score.
Social can be used so much more effectively, and I encourage you to read some of the reports I referenced above, as I really want to see Australia take full advantage of what I am seeing every day in the form of social business around the world.
You can download the full Optus report from their website (registration required).
What do you think? Feel free to leave a comment below or send me a tweet @andrewgrill