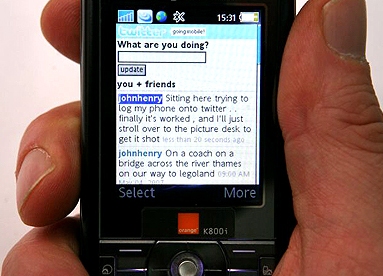 UPDATE: March 6 2009 – since finishing this article last night, my twitter theory about breaking news and the power of twitter search has been once again proven correct. At 09:57 GMT this morning, one of my Melbourne twitter friends @emilyfreeman tweeted "did the earth just move? Seriously??".
This article was also published by Digital-Media magazine in Australia – you can also download a PDF.
Turning to twitter search for earthquake, I could see that yes many people were also reporting the same thing. As at 10:17 GMT – still nothing on the mainstream media. Read below to find out why twitter + mobile + search is the new killer app.
A few days ago while reading my twitter feed (on my mobile via dabr.co.uk) I came across a reference to an article in Ad Age that looks at how twitter views its search capability compared to Google search.
It comes on the heels of Eric Schmidt, CEO of Google having to apologise after calling twitter a "poor man's email system" recently.
Comparing twitter to email means that Eric just doesn't get twitter. I'm going to hazard a guess that he probably does not even have a twitter account (@ericschmidt is a fake).
Going further, for a CEO so fixated on taking Google mobile, he misses the Eureka moment around twitter + mobile + search – which forms the subject of this short post.
The very fact that I came across the inspiration for this post via twitter on my mobile should give you a good indication of how I have started to consume news and information.
While twitter's eternal question is "what are you doing", as more and more people join the twitter revolution and use it via their mobile, the question is becoming "what are you doing and where are you doing it?"
Recent tragic global events have been reported, even broken via twitter – thanks to those eyewitnesses micro-blogging via their mobile.
Most recently we had the story of a mountain rescue co-ordinated by twitter, the Turkish airliner crash at Schipol airport broken by twitter 15 minutes ahead of major news outlets, and apparently even CNN picked up the news via twitter. Sky news in the UK has also just employed a "twitter correspondent".
Clearly – something is happening when major news outlets start turning to social media. The Ad Age article however highlights that twitter's end game (and where the money may come from) is not just about trumping news outlets – it is about completely disrupting the Google business model of paid search. Twitter can only do this however by tapping into the unique utility and immediacy of the mobile phone.
In each of the disasters reported above, the only way possible to report these was by mobile. In each case the eyewitnesses did not have the luxury of their desktop PC or laptop connected to an internet connection – in each case they grabbed their mobile (because it is always with them) and started twittering what they saw – live and unfiltered to the entire world.
In 2008, twitter bought and integrated summize.com to become search.twitter.com – twitter's search engine. Until recently I didn't think I had any real use to "search twitter" but these global news events have drawn me to it, allowing me to get a live stream of what is happening in the world – filtered not only by different subjects or themes, but also by real people.
And here's the Eureka moment with twitter + mobile + search that should be worrying the heck out of Google, and probably prompted Eric Schmidt's feeble attempt to hide what can only be described as his professional envy about a web2.0 service that is rising towards critical mass and adoption at a much faster rate than Google.
The way I personally use twitter is to carefully select who I follow, and actually block my updates – making them available only to those I'd like to follow me. Many have challenged me as to why I have an "invitation only" model for followers – but it has allowed me to put a quality control filter on my twitter stream.
Twitter celebrities such as Stephen Fry cannot realistically manage a follower base of 200,000 people. I follow around 1,000 people and in turn I have over 700 follow me that I have in a way hand-picked. This means that I can keep out the spammers and scammers that have started to infiltrate twitter and instead concentrate on quality news and views from my followers.
This does mean that my twitter stream follows pretty closely what I am interested in – and therefore it was no surprise to receive the Google vs twitter piece from Ad Age via twitter.
This is where twitter search will start to win out over Google. We all know that many Google search results are either paid (adwords) or as part of search engine optimisation (SEO) undertaken to make the results appear on the first few pages of Google. With twitter however (or at least at the moment) the information is being supplied by real people in real time. Even the most powerful Google computers cannot keep up with real updates from real people.
Making these "tweets" searchable adds a new dimension to search, and in particular search via the mobile.
Perhaps going forward, a mobile user will turn to their twitter stream to search for a local restaurant recommendation, safe in the knowledge that the answer comes from a human who is familiar with the area, or has actually been to somewhere suitable, or is actually at the restaurant at that moment.
Google will have to pull something out of their not insignificant hat to keep up with mobile social networking, coupled with search. While "local search" may be the holy grail, localised, personalised and user regulated search via the mobile could end up being the real winner.
I can understand why the twitter VC's have just recently pumped a further $35M into the company. I am sure they can also see the value of social media search ahead of traditional advertising models such as banner ads splashed across the website. The next challenge will be how to monetise this unique form of search without alienating social media consumers.
You can follow me on twitter – I'm @andrewgrill