What is your workplace persona? Are you a Tennant, Bedrock, Explorer, Rover, Socialiser or Tourist? At the Paragon Workplace Solutions Dinner debate last week, we heard from Iain Shorthose, Global Workplace Experience Director, about these different types of workers.
With the advent of hybrid working, we now have a range of different personas and when we are aware of their traits, we can design a hybrid workspace that works for everyone.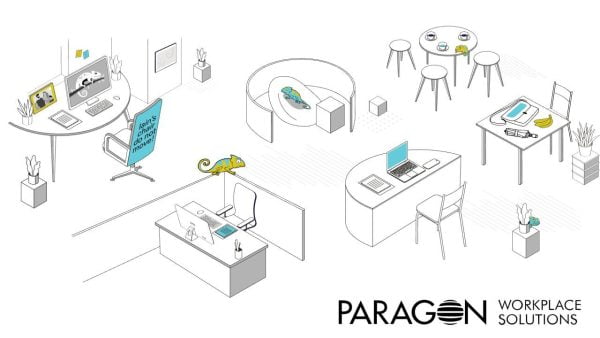 Iain presented the 6 different types of workplace personas:
Tenant: Desk-based, in the office 5 days a week, has a favourite parking space, a designated desk with an array of barely surviving pot plants, family photos and a piece of A4 paper stuck to the back of the chair saying, 'my chair – do not move!'
Bedrock: Not so dissimilar to the Tenant, other than from time to time they can be encouraged to step away from the designated desk and with much trepidation and undertake a low-risk task from another spot in the office. Maybe a quick review meeting, but on the same floor.
Explorer: Although similar in some ways to our Tenant and Bedrock, they don't have a fixed desk, but likely to still have a preference. Due to the amount time spent in the office, they don't have an allocated desk. They will book a hot desk, but equally make good use of the meeting rooms, and quiet areas depending what they are working on. Their workplace must be digitally optimised.
Rover: Won't use a fixed setting. Likely to only be in the office for some pre-planned activities; colleague meetings, customer or client visits or maybe the monthly team meeting. Hot desk is fine, and likely to only use it as somewhere to leave the bag, banana and umbrella as they move around.
Socialiser: Once a month is enough for the Socialiser. Will make full use of office facilities, touch-down areas, 1-2-1 pods, informal collaboration spaces and of course the break-out and coffee areas, all in the name of connecting, socialising and re-energising!
Tourist: It's that time again for that in-person all-hands town hall. Navigating the parking space booking system, arranging the guest pass, and realising it's now a cashless restaurant when hangry is rearing its ugly head. They might just get that niggling laptop issue resolved by visiting the IT Hub on the 3rd floor, where they can always be sure of a warm welcome!
Which one are you?
After my keynote to key Paragon Workplace clients, I moderated a number of discussions around insights presented by Ian, David Bevis and Corey Stewart.
You can watch highlights of the talk I presented titled "The Workplace of the Future: How technology is shaping the way we work" below.
Huge thanks to Helen Starling and Dean Music from Paragon & Amelia Sidebottom at Speaking Office for pulling this fascinating event together.