UPDATED August 2014 with Goodspeed review and advice on VPNs
These tips were originally featured in the Wired UK September 2011 magazine on page 82. Click the image for a larger view.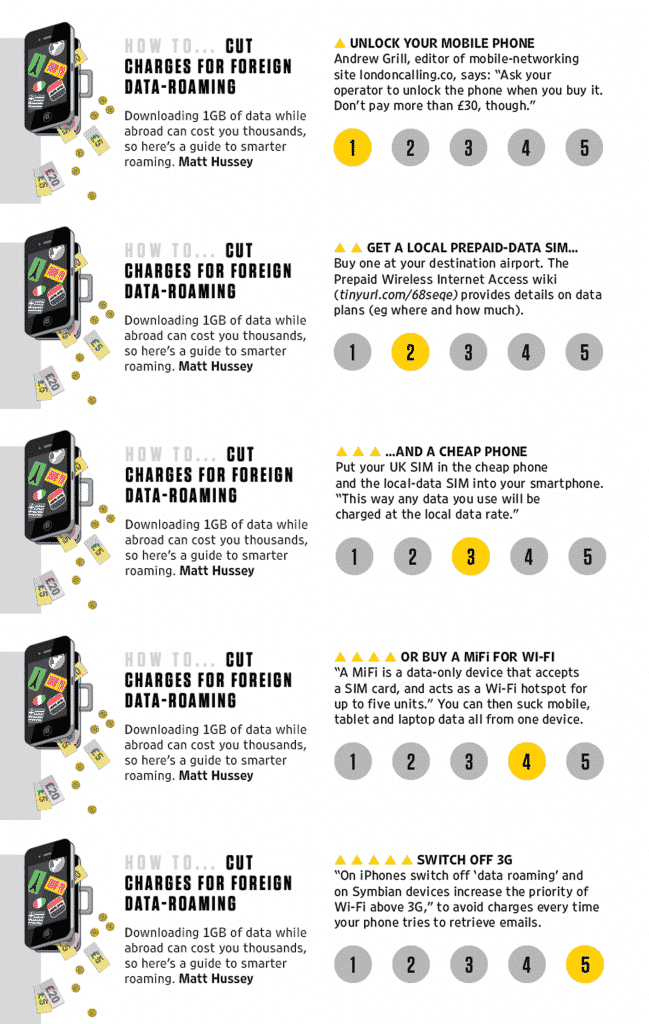 This post has become my most popular ever, with over 37,000 views to date. If you're reading this, you are probably also a regular traveller. You therefore must also read my post on why you need a VPN. My preferred VPN provider is VyprVPN and London Calling readers can access a special deal here.
I've heard so many horror stories about high data roaming charges from friends and colleagues over the years.
This has always surprised me because I've managed to keep my data roaming costs to an absolute minimum (often zero) by following a few rules – summarised below. Hopefully, by crafting this post I can help others keep their data roaming costs to a minimum.
Perhaps my surprise at the high roaming costs experienced by others should be tempered with the fact that mobile phone companies don't publish many of these tips – they would much rather you use your home carrier for data when you are overseas and incur large roaming bills.
I've held international roles since 2004, and always seem to come in with the lowest mobile phone bills for any company I have worked for, even with extensive travel that has seen me visit 90 cities in 31 countries, flying over 2.6 million kilometres according to my Tripit profile.
On a work trip to Istanbul over several days in 2007, many of my team with Blackberries turned in £1,000 mobile bills.
What had transpired was of course their handset was "always on" checking for mail 24 hours a day and therefore racking up expensive data roaming charges along the way.
Using just some of my tips below, I was able to keep my data roaming bill to an absolute minimum, and after reading this you should be able to as well.
This post will also help you find a local SIM card if you are travelling to the UK or a number of other countries.
One tip that overseas travellers seem to miss is that if you have bought an iPhone or indeed any sort of handset or dongle via an operator, chances are it is "locked" to their network so that if you land in a foreign country and try to insert any other operator's SIM, it will refuse to work.
Tip 1. Unlock your phone WELL BEFORE YOU TRAVEL
Handset locking is such a lazy attempt by mobile operators to provide you with no option but to spend big when overseas on data and voice roaming. Ask your operator to unlock the phone when they sell it to you (there will be a charge and a qualifying period), but never entertain paying more than £30/$50 to get it unlocked. Alternatively, you can buy an unlocked phone (also called outright) from companies such as Expansys.
If you have a data dongle or MiFi that is locked (they normally are to keep the purchase price down), sites such as unlocked-dongle.co.uk can help you. I have used them before to unlock the 3 MiFi (Huawei E565) and it worked well with a minimum of fuss.
You will need your phone unlocked so that you can put a local SIM card into it (allowing you to benefit from local data rates) in tip 3 below.
Tip 2. Get a second (cheap) phone.
A second, cheap phone can be used to run your normal SIM, while using your smartphone to access local data (using tip 3 below). This way any data that you use will be charged at the local data rate on your smartphone and not the roaming rates of your home operator.
IMPORTANT: To ensure you don't get charged by your home carrier for data roaming, in the options section of the manage connections > networks and connections screen set the "While Roaming" option to "Off". You can leave this set like this all the time (even when back in your home country). You can confirm you have data roaming off via the red triangle in the menu (means roaming with data roaming off).
Tip for US travellers: If you are planning to travel to the US, you will need a tri-band GSM or quad-band phone that works on GSM 850 / 900 / 1800 / 1900 or HSDPA 850 / 900 / 1900 / 2100 frequencies. Most modern smartphones operate on GSM at the US 1900 MHz frequencies. Always check though as each phone is different.

Tip 3. Get a local prepaid SIM card with data included
This is probably the most important tip if you want to use the internet and send and receive email while abroad.
If you are going to be overseas in the same country for more than 2 days, get a local SIM card provisioned with data and voice services. Most countries allow you to purchase a pre-paid SIM without ID.
In countries such as Australia, South Africa and Spain you will need ID to buy a pre-paid SIM (Australia uses a 100 point system so take a few forms of ID with you, in Spain and South Africa just a passport should be ok). You won't need ID in the US or the UK.
You also have the opportunity to get a SIM card either before you head off, or even at the airport in Heathrow when you land.
Ritesim has a great service where they will send you a pre-activated SIM card for a large number of countries ahead of your trip. They have essentially gone and bought up pre-paid SIMs from operators around the world, and they send you the SIM (yours to keep) ahead of your trip to your home or office. This means that you will have the overseas number before you go to give to friends and family or the office.
I have used Ritesim on trips to the US and South Africa (I was provided with these as a trial at no cost) and they worked out of the box. All I did was put the SIM in my unlocked phone, and when I landed it was ready to use. In South Africa, having a local number (and 2GB of data) was invaluable for calling local taxis and the hotel.
Lately at Heathrow, I have started to see SIM card vending machines, located in the arrivals hall. Here you can pick up a data only SIM with no questions asked.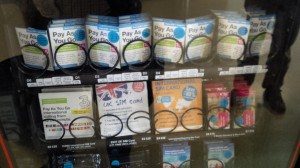 There are also shops at Heathrow in the arrivals and departures area that will sell you local and international SIMs – look for the SIM Local shop. At Heathrow they are in Terminal 5 after the North security gate, and the picture below was taken just outside the terminal 1 arrivals door.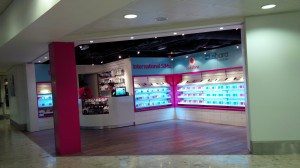 Once you have your local SIM, you will have to configure the Access Point Name (APN) to tell the phone how to connect to the internet on the local carrier.
Remember to write down your existing operator's APN settings first! You can find a good list of worldwide APNs here.
Prepaid data plans on a local SIM are normally pretty reasonable, and in both Spain and the Netherlands, I paid around €40 for 1GB of data that was good for 30 days. In South Africa, they had an online special (I needed to get the SIM first), offering 20GB for R499 (£35/$50) which is one of the best deals I have seen to date. Coupling this with a 4G MiFi, I was experiencing superfast internet in Durban while not worrying about the cost on a recent trip.
[Top tip] when visiting the mobile operator links above, use Google Translate to translate the pages so you know what each of the offers include.
Back in 2012 on a US trip, I switched my data provider from AT&T to T-Mobile. They offer 5GB for $50. The catch is you need a T-Mobile capable MiFi (operating on non-standard 2100/1700 AWS frequencies). The T-Mobile US supplied E587 does the trick – more on this device at http://lc.tl/e587.
If you are planning to visit the UK, there are pretty reasonable deals – as a guide 1GB will cost you around £10. Local phone shops are everywhere on the "high street" in London – look for Vodafone, O2, EE, or Carphone Warehouse. These shops will all sell you a local SIM and also help you set up your phone with the right settings.
If you already have a dongle, SIM enabled laptop or MiFi then the Three UK plans will be of interest because they don't come with a dongle.
Tip 4. Grab a Goodspeed mobile hotspot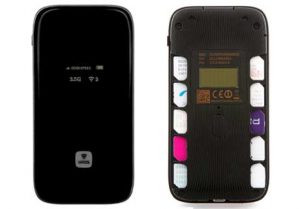 For several months now I've been trialling an innovative MiFi gadget developed by Finnish company UROS called Goodspeed.
The device is unique in that is has been developed with 10 SIM card slots, as shown above. UROS has negotiated local 3G data deals in major markets, so you insert a SIM supplied by them into one of the 9 free slots (1 slot is a "control" SIM to allow the service to operate seamlessly when you arrive in a new location), and the rest happens automatically.
The data charges are quite reasonable, and for the frequent traveller, you can get 500MB of 3G data per day for around €5.90.
I should note that you have to purchase the unit first for €239.00, and then there are a range of plans with a monthly charge of €9.90.
I asked the Goodspeed team to set me up for the US, UK, Spain, Sweden and Switzerland and I have used the device in all these countries. Like other MiFi devices mentioned on this page, you can connect up to 5 devices and you receive up to 3G HSPA speeds. You can grab all the MiFi tech specs on their website.
In some countries, the daily data allowance is super-generous such as in Spain where €5.90 buys you 1GB of data for a day. I used this extensively when I was in Barcelona for Mobile World Congress in February 2014 and was able to stay connected with all my devices without having to worry about roaming charges.
After some initial teething problems when I landed in each country, the device (thanks to new V3 firmware) now connects automagically when I land in a new country and performs flawlessly.
The benefit of the Goodspeed is that I don't have to worry about keeping multiple SIM cards topped up – the team at UROS take care of all of this.
Once you've bought the device, all you pay is the monthly €9.90 fee, then only on the days you use the data are you charged.
Following feedback from myself and another of others trialing the service, they also have released a Lite plan that has no monthly fee, instead the daily fee is €16.50 for up to 1GB of data.
The MiFi and service is a really neat idea and if you travel regularly to multiple countries as I do, then this device beats all of the options I've listed on this page and is well worth a look.
The Goodspeed mobile hotspot is available from their website.
Tip 5. Vodafone Euro Traveller (UK) and Vodafone Australian Roaming options
I have been a very happy Vodafone customer since I grabbed my first pre-paid SIM on a trip to London in 2005. When I moved here in 2006 from Australia I flipped the number onto a contract and have been with them ever since. Because Vodafone has a strong footprint in Europe (32 operating companies globally), they can offer cheaper voice and data roaming. They have a new service called Vodafone EuroTraveller.
If you are a Vodafone UK post-pay customer then when you opt-in to the service, for just £3/day for each day you use it, calls made and data used when in a qualifying EuroTraveller country come out of your UK bundle. For example, I have unlimited calls and texts and 1GB of data while in the UK. This means that when opted into EuroTraveller, I pay a flay £3 per day and keep using my minutes, texts and data as normal – brilliant!
Vodafone Australia has launched a similar program for Vodafone account customers.
With their offer, for $5 per day, you can use your Australian bundle in the US, UK and NZ. This is a pretty good deal, given the Vodafone UK one does not cover the US. If you are on Vodafone Australia already, I'd advise you to opt-in to this from September.
Tip 6. Get a MiFi

I'm now on my 4th MiFi (Huawei E587 unit shown on left – see full review at lc.tl/e587 ) and I would not travel anywhere (even in London) without it.
In summary a MiFi is a data only device that accepts a SIM card, and has an internal battery. It acts as a WiFi hotspot for up to 5 units by converting 3G mobile data (from the SIM card) into WiFi.
I use the MiFi to run not just my iPad, but also my normal phone, and laptop from the one device. When travelling I source a local prepaid data plan as outlined in tip 3 above and run everything from the MiFi.
Where hotels charge for WiFi (normally at anything between $10/€15 and $25/€30 per day) I have found it more cost effective to run everything via the MiFi, and usually experience a faster connection than the hotel WiFi jammed with 300 people all trying to connect at once.
[Top iPad tip] If you are thinking of getting an iPad and travel internationally a lot, then just get the WiFi only model. Not only will it be considerably cheaper, you won't be constantly having to source and swap microSIMs for each country you visit.
Make sure you get your MiFi unlocked before you travel! (see tip 1 above)
The type of MiFi also will be governed by where you are travelling.
The 3 MiFi E585 (around £70 outright including 3GB of data) is a 2100MHz WCDMA model, meaning it will work pretty much anywhere except in the US where they use 1900MHz for WCDMA. I used the 3 MiFi extensively on my last trip to Australia, downloading over 30GB of data over a 3 week period without once using the $10/day Hotel WiFi.
If you are travelling to the US, then you will need the Huawei E587. The E587 supports UMTS (AWS 2100/1700, 850/900/1900/2100MHz) unit so will work in the US on AT&T AND T-Mobile. The trick is thought that the T-Mobile version of the E587 is only available from them. Whatever MiFi you do buy, ensure it works on at least the US 1900 UMTS frequencies – then you can use it on the AT&T network.
[TOP TIP] If you are in the US, you can grab the T-Mobile E587 from one of their stores, and more information on unlocking and their data plans ($50 for 5GB of data valid for 30 days) can be found on my Huawei E587 post. This MiFi has become my global option for anywhere in the world now.
Each MiFi provides simple setup via a web based interface, and you can use the standard 192.168.1.1 address to access the settings just like on your home router. Battery life hovers around 3-4 hours depending on how much surfing you are doing.
Most smartphones these days come complete with WiFi, and apart from making voice calls and sending texts, everything else (email, web browsing etc) can be carried out over WiFi, which brings me to my next tip…
Tip 7. Switch off 3G and use WiFi only
Switching off your 3G connection is not always a simple process, but doing so can save you real £/$/€ when you travel. On some phones and the iPhone/iPad you can just select the "disable cellular" option, and on Android devices you can turn this off in the wireless settings option.
Once you are operating on WiFi only, you can pick up the local WiFi (hotel or MiFi) signal and all of your internet and email sessions will use WiFi.
Tip 8. Consider Truphone or Toggle Mobile if based in the US/Australia and UK and travelling between these countries.
Back in 2011 on a trip to the US from the UK I decided to give Truphone a go. I have been using them since 2006 before I moved from Australia to the UK (with their VoIP service), and they now offer a Truphone SIM. The SIM currently provides "local rates" in the US, UK and Australia.
When I call numbers in the UK from the US, I pay just 10p/minute for landline calls and 22p/minute for mobile calls – pretty reasonable given I was on a mobile walking down the street and not able to fire up Skype. Their data charges are also reasonable – 10p/megabyte in the UK and Australia, and 20p/megabyte in the US.
I decided to add additional numbers to my Truphone SIM. Now for an extra £5/month per number, I have a permanent US number (213 xxx xxxx) AND I ported across my existing Telstra (Australian) 0418 xxx xxx number. Now when I call a US number, they see my US number come up (same in Australia where they see my Australian number). Importantly, my US and Australian contacts call my local number, and I don't pay to receive the call when in the UK, US or Australia. Brilliant!
More information on Truphone is available from truphone.com where they offer both prepay and pay monthly accounts.
Lately there have been other entrants to this global SIM space, and another one worth considering is Toggle mobile. They are backed by LycaMobile, and offer 3p calls in the UK and also "local rates" and local numbers for a range of countries.
I can't wait for them to add a US local number and rate plans – this will put their service head-to-head with Truphone where I pay 10p per minute. Also Truphone charge £5/month for a local US number, and it looks like Toggle will offer the same for £5/year. Bring on competition!
Update 19 January 2014: Toggle now offers a US local number and calls to/from the US are also 3p/minute. I've moved my personal mobile to Toggle and now have multiple numbers for just £5/year per number.
Tip 9. Get a VPN to protect yourself when connected to public WiFi.
I have been using a VPN since 2009 as a way of protecting my online security when using public WiFi at coffee shops, conference venues and hotels.
You may think I am being slightly paranoid, but wanting to always be ahead of the curve, when the Firesheep FireFox plugin was released in 2010, that lets you sniff all of the traffic from nearby public WiFi hotspots, I felt vindicated that I was being smart in protecting my online activity.
Fast forward to 2014, if you access a public WiFi network without using a VPN, then you're playing with fire – as any medium-level hacker can use Firesheep to view everything you are doing on your laptop.
Many companies provide VPN access to corporate LAN networks, but they don't always secure all of your browsing traffic, meaning that the geeky looking guy at the back of Starbucks is watching everything you do on Facebook.
The other byproduct of a VPN is it allows you to appear as if you are another country. As an Australian expat, I often like to catch up on Australian TV. The ABC and other websites in Australia enable geoblocking to ensure people outside a particular country cannot access content.
You can read more about why you need a VPN in another post, or if you're convinced, head over to VyprVPN and take advantage of a special offer for London Calling readers.
In the next part, we will put all of these tips together and provide some suggestions on how to set up your devices once you arrive at your international destination.
In the meantime, happy travels. Are we connected yet on Tripit? This is a purpose built social network for seasoned travellers and it also shows up on our LinkedIn profile alerting your business contacts that you may be in their city.