As I travel around the UK and the US speaking to agencies about PeopleBrowsr and Kred, it is usually towards the end of my presentation when a familiar question is posed.
"…so once you have identified these influential bloggers, what do you do with them?"
The question comes up a lot, and I am very happy to provide my advice, however the question seems to come up just a little too often for me at the tail end of 2011 from large, global PR agencies who you would think have already nailed blogger engagement…
At this point in the conversation, I figuratively take off my "PeopleBrowsr" (read: vendor) hat and put on my blogger hat.
Agencies like this, because they rarely get to meet an active, respected and long-term blogger with a senior role in a vendor company providing social media analytics (and this issue alone could fill up another blog post).
I am always more than happy to provide free and impartial blogger advice to my clients and prospective clients as I believe I am in a privileged position, being paid to work in an industry I love, and meeting lots of interesting people along the way.
I often cite a couple of personal blogger engagement examples
1. Vodafone 360 Blogger SIM – where Vodafone provided myself and 4 other bloggers with a global SIM card (£500/month limit) and encouraged us to "blog for a year about Vodafone 360 on us".
Hats off to the then head of communities Bob Rapp who supported this initiative. Unfortunately at the end of the 12 months, there was no on-going dialogue with these Global Vodafone ambassadors – shame really as I continue to play this unpaid role for Vodafone on a weekly basis.
2. Mark Hopkins Intercontinental – read about how one tweet secured me an upgrade to a suite at this prestigious San Francisco landmark, as well as free internet for my stay – a great example of blogger engagement. The post is now used an internal training resource for the Intercontinental Hotels Group worldwide.
World's best practice blogger engagement
The best example (and one that will never be repeated) of blogger engagement involves Her Majesty the Queen.
Her super-smart media advisers thought it would be a good idea to invite those journalists AND bloggers who are covering (or are likely to cover) her Diamond Jubilee in 2012 to a reception in November at Buckingham Palace. The big guns were rolled out for this event – the Duke and Duchess of Cambridge and the Prince of Wales and Camilla were there as well. They even had a hashtag ready – #diamondjubilee. Not a bad Royal line-up for a bunch of journos and bloggers!
Assuring a Twitter "photo op", they set aside the East Gallery of Buckingham Palace as a "Tweet Suite" – a smart touch guaranteeing coverage by those invited bloggers and twitter journalist/celebs.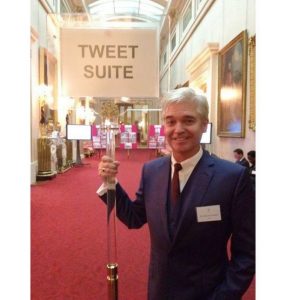 Phillip Schofield shared a picture with his Twitter followers from the Tweet Suite (as did most of the other twitter savvy guests there on the night).
I am not sure who drew up the blogger list (well advised obviously), and there is no guarantee of favourable coverage from bloggers (or Journalists) ever, but when they file their copy on the Golden Jubilee, I am sure they will look back to the event in November 2011 when they met the subject of their post (and William and Catherine).
The smart courtiers decided that in the age of social media, if you can't beat them – join them and hence ensured that enough bloggers of note would find an invitation to meet HM the Queen irresistible and also feel the need to show off that they had net the Queen with a tweet from the Tweet suite.
What a pity Royal protocol still forbids a one-handed "self portrait instagram with the Queen" from your mobile.
In answer to "so what do you do with the bloggers once you find them?" – here are some quick tips
Just as the Queen did – give them something money can't buy – an exclusive, advance viewing/trial, meet someone from your brand or your brand ambassador ie give them something to blog about!
Bring them into your office and meet them! You will not realise how powerful this can be to acknowledge the work of a blogger
If nothing else – call them – don't just tweet, reach out and put a voice to the brand – and make sure you DO read their blog before you call.
Follow up and stay in touch – after you've met them, ensure you keep in touch.
Use influencer identification and measurement tools such as Kred (disclosure: I worked as Kred CEO) to find those "local rock stars" that would love to be in touch with your brand.