As a passionate South Australian, it was a pleasure to be featured in the latest South Australia Club newsletter published by the London office of the Agent General, Bill Muirhead.
I've lived away from Adelaide for 25 years, the last 13 in London and 12 years in Sydney before that. While I may never permanently return to Adelaide myself, I'm pleased and proud to promote the state and city for its amazing benefits for companies and families.
The full interview is below.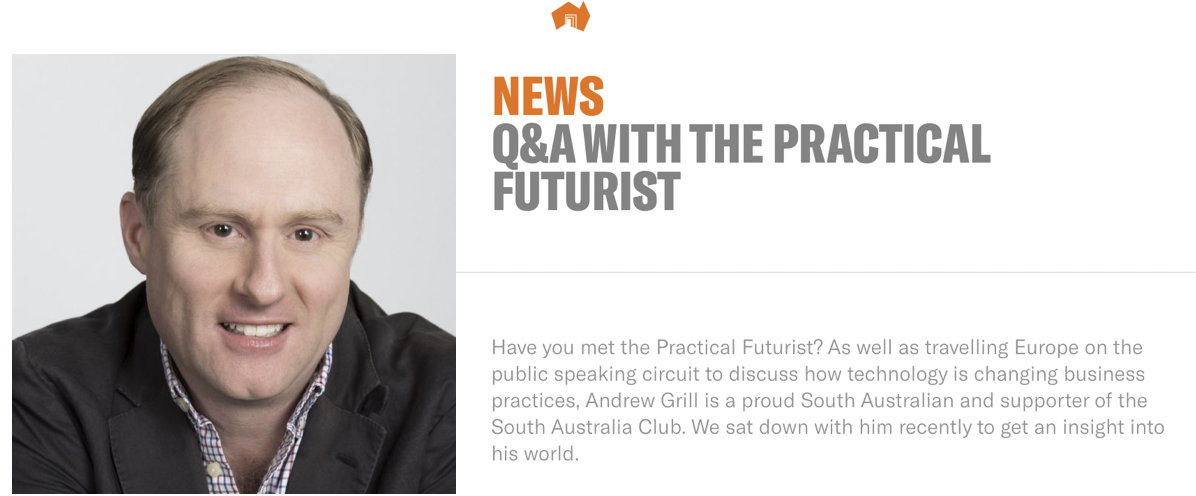 Have you met the Actionable Futurist®? As well as travelling Europe on the public speaking circuit to discuss how technology is changing business practices, Andrew Grill is a proud South Australian and supporter of the South Australia Club. We sat down with him recently to get an insight into his world.
What does a typical day for you involve?
As a Futurist, I find myself constantly reading and researching new trends and ideas and unpacking them ready educate my clients. A typical day would involve talking to a new client about a digital transformation consulting project, a briefing call for an upcoming keynote address on digital disruption as well as researching and writing articles related to my speech topics. If I'm not the one on-stage presenting, I often find myself at a networking event or conference a couple of times a week.
How did you begin your career?
My father ran an electronics company in Adelaide, which started my curiosity about technology from an early age. I studied an electronic engineering degree in Adelaide while also working for British Aerospace, and undertook work experience with Optus in Sydney that led to a full-time role with them some years later. Having studied as an electronic engineer, as well as having marketing and business degrees including an MBA, I've always sought to combine my technical and business knowledge. My career moved in the direction of product and market development roles before becoming the CEO of a number of high-tech start-ups, and more recently I was a global managing partner in IBM's management consulting practice here in London.
What's your connection to South Australia?
I was born in Adelaide, and moved to Sydney when I graduated from my Master of Engineering Degree to work for Optus. In 2006, I moved to London to head up the European operations of an Australian mobile start-up. I've be been here ever since and I'm now a dual British-Australian citizen.
How did you become part of the South Australia Club?
Around the time the club was established, I was helping Bill Muirhead and his team understand why thirty-something ex-South Australians were resisting a return to Adelaide from an overseas role by launching a global online expat survey. Bill invited me to attend some of the Club's events which lead me to join as one of the early members.
Favourite South Australian wine?
I can only choose one? In that case it's the Wynns John Riddoch Cabernet Sauvignon from the Coonawarra. If I'm catching up with friends in London, I always source a great South Australian white or red to showcase our amazing wine making skills.
What do you enjoy most about the South Australia Club?
Number one is networking, as well as attending events held in places I'd not normally have access to, and being able to treat guests to some great South Australian hospitality, and fine SA wines.
Who do you think eats all the pies?
I've been known to place myself strategically near the kitchen the moment you can smell them at events. Who doesn't love a Vili's pie or three … or four?
Best networking advice – to give or have been given?
At events always put your name badge up as high as you can on your clothing so people aren't searching for it – allowing your name and title to really stand out. If you would like to stay in touch with the person you've just met and they don't have a business card, then connect with them on LinkedIn there and then on your mobile. Remember to ALWAYS personalise your LinkedIn invitation rather than just hit "connect"!
What's your hidden London gem?
Shepherd Market in Mayfair – a little slice of London just off Piccadilly with three pubs within shouting distance (literally) and a bunch of great restaurants. I found it by accident when I first moved to London in 2006 and went looking for a Ryman's stationary store. They even have one of these in this tiny square – but don't tell anyone about it.
How can people find you?
For my latest futurist thinking, keynote speech replays and everything else just head to https://futurist.london