On Tuesday 23rd April, I attended the socialbakers Engage conference in London as the guest of their CEO Jan Rezab.
No sooner had I arrived, I met up with fellow blogger and friend Neville Hobson who was organising the composition of the afternoon expert panel on "the next stage of social media".
Unfortunately three of the panellists had pulled out, so Neville asked me if I would be happy to join, and of course I said yes.
I was joined on stage along with Neville by (L – R)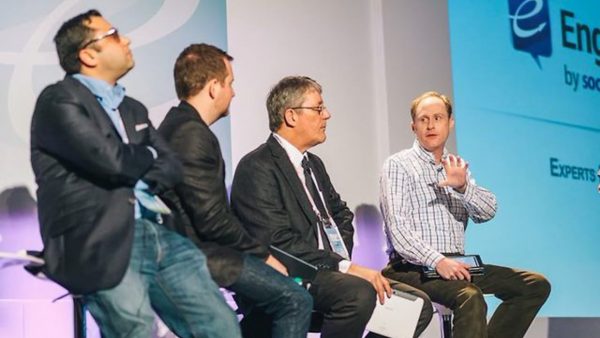 Maz Nadjm – Founding Director of SoMazi
Craig Le Grice – Global Technology Performance Director at Aegis Media
Neville Hobson – Communicator, blogger and podcaster
The videos are courtesy of socialbakers who also livestreamed the whole day.
I was grateful to Neville for asking me to attend, as I feel that I can make a valuable contribution to the debate on the next stage of social media.
Introduction and the untapped potential for social media.
Here I discuss how companies can move from using social media to actually become a social business.
Senior Management resistance to adopting social media
Referencing the Altimeter Group 6 stages of social business transformation report and the fact that 48% of companies thought their senior executives were not aligned with their social strategy.
I also talked about the "Twitter Tax" that companies pay when they open a social channel for customer service, and find that their years of broken processes are exposed
Businesses open themselves to 'Twitter Tax' when opening accounts. It's best feedback businesses can get. @AndrewGrill #engage2013

— Woody (@StevenWoodgate) April 23, 2013
Social is just like real life
In this section I spoke about my view that "social media is like real life", how marketers need to behave more like people having a conversation at a conference, and why they should be using social tools to understand them better.
I really like @AndrewGrill's "Real life is social…" point at #Engage2013. Brands need to wait for their moment to speak not shout at users

— Lee Benecke (@leebenecke) April 23, 2013
The death of average
Quoting IBM CEO Ginni Rometty and her discussion about the "death of average" and using the incredible power of big data. I also introduced a concept of consumers having the power in a marketing relationship.
I also called out the lazy marketing we are still seeing in 2013, and the opportunities from social.
Great comments from @AndrewGrill at #Engage2013. Lazy Marketing is happening. Be an informed consumer and be a smart marketer.

— Nancy Kenney (@GreenGirlMedia) April 23, 2013
Mobile + Social
In this segment I talked about where mobile fits with social. I also mentioned the great piece of work from my friend Alan Moore – "the allure of the mobile society" – and how mobile is always at the "point of creative impulse".
Collaboration with social – using social inside the enterprise
Here I discussed how social can be used inside an organisation, and how the new currency will be knowledge shared inside an organisation.
I also suggested that HR departments might judge my performance in part on how well I share knowledge with my co-workers.
Knowledge will be the new currency @andrewgrill #engage2013 #internalcollaboration

— Alexandra Annable (@alex_annable) April 23, 2013
Change the culture
Social business is not just about technology, it involves a fundamental change in the company's culture. Capgemini produced a report in 2012 explaining how companies that harness technology coupled with organisation change – the "Digerati" are ultimately more profitable.
Audience Question – measuring social adoption internally
A question for the audience asked what metrics can be used to look at the adoption of social media. My response explained how Ogilvy in London used gamification techniques to encourage their staff to get more involved with social.
Gamifying social engagement to get staff into social works. Humans like to compete. #engage2013 @AndrewGrill @Kred

— Anne Smart ⚡ (@annesmart) April 23, 2013
Closing thoughts
The panel was asked what we wanted to see next in social, below are my thoughts
These are just my segments from a 60-minute panel, and there were great contributions from the rest of the panel, which you can watch in full below.