At conferences and events around the world where I am talking about digital disruption and what causes it, I always use examples of new disruptors that my audiences may not have heard about. One of these disruptors is Trov – an on-demand insurance platform. There is a promotional video at the bottom of this post that explains how it works.
Trov is the classic digital disruptor. They have seen the high profits available in this sector of the market, they have developed smart technology to remove the friction involved in the current process of buying and claiming insurance and they have taken into account consumer demands – as the "3 forces" diagram below shows.
In a sentence, Trov allows you to "swipe" to insure an item such as a bike or a camera for an afternoon or a weekend rather than having to take out a policy for a whole year. This style of insurance and the way of accessing it suits the needs of millennials.
In the 60 second video below, I outlined the Trov app to the entire European Management Team in the Global Forwarding division of DHL.
I explained also that sometimes when incumbents hear about new scrappy startups their first reaction is to dismiss them because of the perceived weakness of their offering or approach.
As I explained to the DHL audience, this is as symptom of a disruption blind spot.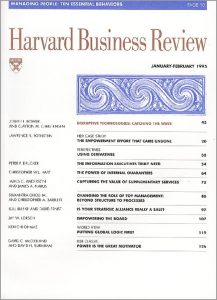 Clay Christensen in his 1995 article for Harvard Business Review "Disruptive Technologies: Catching the Wave" says that:
"Managers must beware of ignoring new technologies that initially don't meet the needs of their mainstream customers"
And Clay is right. In the clip above I explain how when I presented the Trov example at the ICMIF insurance Biennial conference in 2017, the panel after my keynote was comprised of the CEOs of many of the insurance companies in the audience. They argued that they weren't worried about "The Trovs of the world".
What was fascinating was that I was waiting off-stage watching the panel, standing next to the very people that support these CEOs – their strategy and innovation managers. These people were shaking their heads. They ARE worried about the Trovs of the world because they remove friction.
One suggestion I make for all of my audiences is instead or having the "innovators dilemma" as Clay Christensen writes about, and playing down the threats from these new entrants, embrace what they have done. Understand why they have decided to enter your market.
Regardless of how sound their idea, technology or funding is, they saw a gap in the market and applied the disruptor's 3 forces model above to understand if they can disrupt an existing product or process.
When you understand were they perceive the friction is, and understand if you are contributing to it and can remove or reduce it yourselves, you are on the way to "Disrupt yourself before you are disrupted".
Are you taking apart the idea and business model from new disruptive entrants to your market or are you saying "they'll never be a success"?
Below is a promotional video about how Trov works.