I am starting a campaign to expose the simply lazy, and sometimes downright sneaky tricks that companies are playing to get their direct marketing material through your letterbox.
Frankly, in 2013, and the age of big data and social media, to have a clean, window faced envelope dropped through my letterbox (with a big sign on it that says "no junk mail") addressed to "The Householder" smacks of lazy and desperate marketing.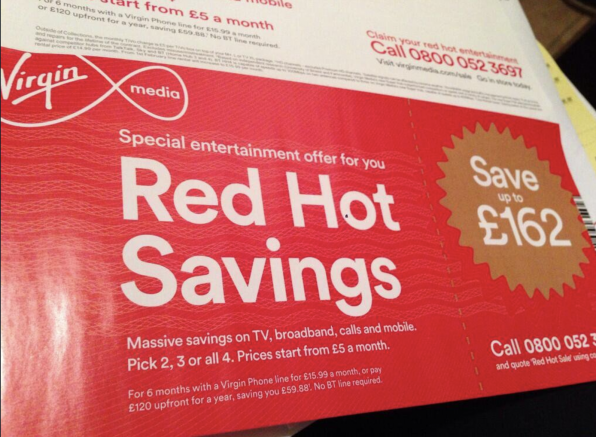 UPDATE: 18:20 Sunday 7 April The Marketing Manager of Hyperoptic @1withredhair (Sunita Sharma) has been in touch. I will send her my details and we will see if their mailings stop.
Virgin Media – over to you.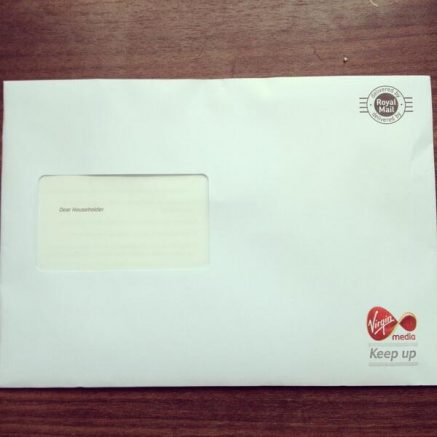 The winner of the lazy marketer of the decade would go to Virgin Media here in the UK.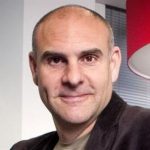 I can only appeal to Jeff Dodds, Virgin's Chief Marketing Officer to look closely at these "The Householder" letters and take them out of the marketing mix. They just show Virgin Media to be desperate and lazy marketers. After probably 10 or 15 of these, over the last 2 years, I am STILL not interested in your products.
We have tried sending them back to Virgin Media to get them to stop – but they keep coming!
The latest piece of lazy marketing from Virgin Media came through the door yesterday.
A clean white (no hint it was from Virgin Media), window faced envelope to make it look "official", addressed ever so personally to me as "The Householder"
This is just a sneaky trick. It has ensured that I WILL NEVER buy from Virgin Media, and has also prompted me to write this blog post in the hope that the smart marketers will see sense and condemn this practice.
Those of you reading this will surely point me to the UK's Mailing Preference Service that can be used to stop unwanted direct mail.
Even this service cannot stop mail addressed to "The Occupier/Householder" – or don't want to. It has been run by the Direct Marketing Association for the last 20 years and quoting from their website –
The Mailing Preference Service (MPS) is a free service set up 20 years ago and funded by the direct mail industry to enable consumers to have their names and home addresses in the UK removed from lists used by the industry. It is actively supported by the Royal Mail and all directly involved trade associations and fully supported by The Information Commissioners Office.
However even this service cannot stop the rise of "The Householder" direct mail – see below (click to enlarge).

Even though under section 11 of the Data Protection Act I can ask that companies stop sending me junk mail, as "The Householder" is not my actual name, I cannot ask them to stop. If I try and add "The Householder" or "The Resident" to the MPS form it does not accept it. Click to see in more detail.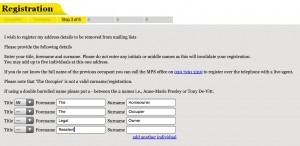 So companies such as Virgin Media, Hyperoptic (2 pieces of spam last week) and JAC Strattons continue to pollute our mailboxes with completely unwanted and irrelevant material – and there is nothing we can do about it.
Thanks Brian Doherty from Hyperoptic for these 2 pieces of spam, a perfect excuse to highlight your company.
And Neil Jackson, Lettings Manager at JAC Strattons – I will never ever contact you, I promise, so please take me off your spam list.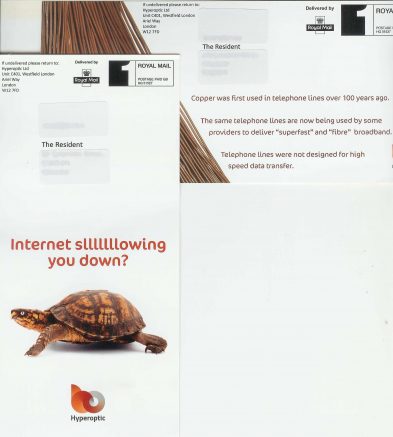 Well perhaps if we name and shame these lazy marketers, they might see sense and also the Direct Marketing industry might wise up that their tactics are sneaky and they will stop. Wishful thinking perhaps….
In 2013, if you got an email or a tweet addressed to "The reader" what would you do?
You would probably ignore it.
In fact Direct Mail is probably the least effective advertising method around based on what I have seen – 100% of the DM pieces I have received above I have ignored, and not made a purchase, and frankly never will.
As an industry they keep pumping billions of articles out to "The Householder" expecting we will feel like this is an intelligent way of getting our attention.
Lazy marketing must stop. You are actually pushing negative marketing messages on us.
Will you join me on my campaign to rid our letterboxes of "The Householder" spam?
Leave a comment below and I also look forward to hearing from @JeffDodds, @VirginMedia, @Hyperoptic, and @JACStrattonsNHG