When:
10 February 2022 @ 18:30 – 21:00
Europe/London Timezone
2022-02-10T18:30:00+00:00
2022-02-10T21:00:00+00:00
Where:
Institution of Mechanical Engineers
1 Birdcage Walk
London SW1H 9JJ
UK

Podcast Recording
Engineers Australia UK Chapter Space-Based Solar Power Event live podcast recording
Listen here or on your favourite app
Video Replay
The Actionable Futurist® Andrew Grill invited some of the world's leading space and energy industry experts to debate cutting-edge innovation to meet the NetZero agenda using solar power delivered from space.
Overview
This event was part of The Institution of Engineers Australia UK Chapter's monthly "Spring Forward" hybrid lecture series to look at a potential new form of energy – Space-Based Solar Power.
In the fifth of the Spring Forward event series, we continue to examine how Engineers go beyond the theory and go back to first principles to meet, head-on, the current challenges of climate and sustainability.
As we rebuild after the recent re-set, forced by the coronavirus, building back better is a mantra that requires us to consider the likely sources of sustainable energy ahead.
Today, in the wreckage of the coronavirus fallout we have a licence to be bullish to kick-start activities to take us to NetZero and meet some very ambitious targets being set by the world's governments.
Much has been said about the Oxford – Cambridge (innovation) triangle with The City of London at its centre and its ambitions to engage with The Indo-Pacific growth markets through an Australian beachhead under the Australia – UK Free Trade Agreement.
These are inspiring times as Engineers from Australia and The United Kingdom seek to work together on a highly transformative agenda and this Satellite / Solar Tech initiative is just one example of what can be achieved
As the world gets back up to speed, this is an opportunity for Engineers to inspire us to be courageous innovators in a time when someone needs to clean up a mess and make the world a better place, again.
Almost a century ago The Institution of Engineers, Australia was granted a Royal Charter to deliver excellence across the Engineering profession. Their close friendship with The Institution of Mechanical Engineers has been central to the joint delivery of inspiring innovation across the Engineering profession worldwide.
One Birdcage Walk where the event took place has been the Westminster home and centre of excellence for the Institution of Mechanical Engineers for 175 years.
Panellists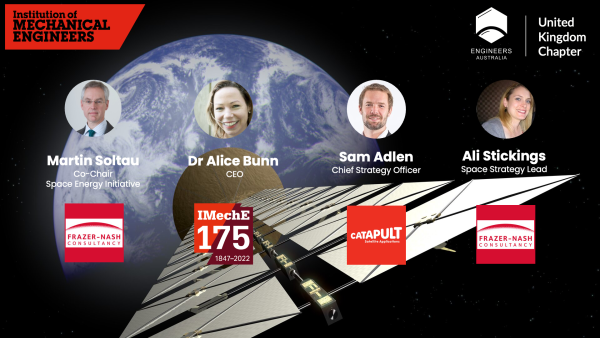 World's leading space and energy industry experts;
Martin Soltau Co-Chair Space Energy Initiative & Space Business Lead at Frazer-Nash Consultancy
Dr Alice Bunn CEO Institution of Mechanical Engineers
Sam Adlen Chief Strategy Officer, Satellite Applications Catapult and
Ali Stickings Space Strategy lead at Fraser Nash Consultancy
Joined Moderator Andrew Grill, The Actionable Futurist® to debate the innovative opportunity for cutting-edge solar power delivered from space as a game-changing solution to the NetZero agenda.
Key Takeaways
• The opportunity for generating power from space
• How to overcome challenges in commercialising this technology
• The engineering challenges have been overcome to offer this as a solution now and not before
• How space-based solar power contributes to the net-zero debate
• How the Australia-UK Free trade agreement helps both countries lead the way in space projects
• The future for space-based solar power generation
Read the UK Government's paper on Space-Based Solar Power here.
Your Host
This is my fifth collaboration with the Engineers Australia UK Chapter. For each event, I produced the show, developed the topic and questions, interviewed the guests live and also live-streamed the whole event.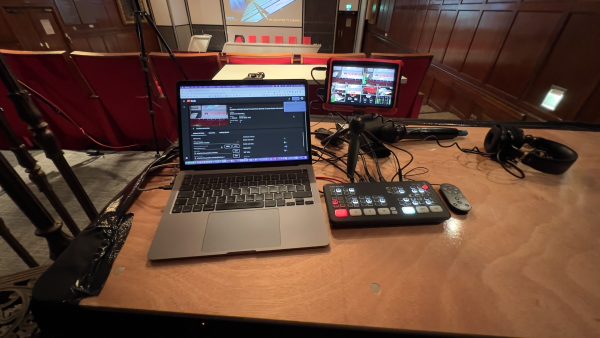 If you are looking for someone who can host your event and who deeply understands the impact of changing technology on business and society, then please get in touch to see how we might collaborate.